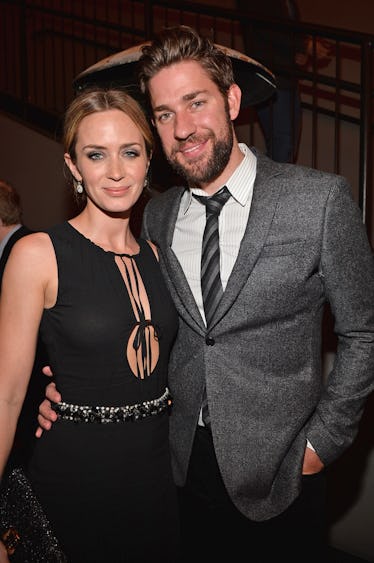 The Advice Emily Blunt Gave John Krasinski After His 'A Quiet Place' Is So, So Sweet
Alberto E. Rodriguez/Getty Images Entertainment/Getty Images
John Krasinski and Emily Blunt are the husband-wife duo of everyone's dreams. They're beautiful people with big hearts who support one another without fail or question. So, naturally, it's amazing to see them have the kind of success they've had in 2018 with their film A Quiet Place. With Krasinski as writer, director, and star of the film, and Blunt by his side in a co-starring role, A Quiet Place was most definitely a family affair. And its tremendous success really took Krasinski by surprise. Luckily, Emily Blunt's advice to John Krasinski about how to handle all of it was perfect.
In a new interview with Men's Health, Krasinski spoke at length about his marriage to Blunt and how she's such a special part of his personal and professional life. When relaying the experience of sharing the screen with his wife and their film's subsequent success, Krasinski had nothing but amazing things to say about it:
I said to Emily, 'There's no greater gift that the universe could have given me than to go through the biggest success of my career and I don't have to explain to you how it felt.' We were both in the boat. I said to her, 'I don't know if it can ever be like this again.'
As previously mentioned, Krasinski had writing, acting, and directing credits on the film. So, it was a huge project for him. I have no doubt that having Blunt on board to go on that creative journey meant a lot to him.
After Krasinski expressed his heartfelt sentiments about working together on the film, he says Blunt chimed in with some very sage advice about how to appreciate the moment for what it is. Here's what Krasinski said Blunt told him:
Leave it to Emily, who is better at everything than me — she goes, 'It can't.' She just so perfectly encapsulated it. She said, 'It can't be like this again, and it shouldn't. So take this and put it on a mantel, this really special treasure that we experienced together. And now go out and do something else.'
Amazing! Clearly, Blunt has Krasinski's back and knows exactly what to say to put things into perspective for him, which really speaks to their special bond.
In his Men's Health interview, Krasinski also talked about being aware of how rare an opportunity A Quiet Place was for him and his wife:
I know I'll never do another movie that's this successful, this original, this underdog-y, and then on top of it have it be with my wife every step of the way.
Wow, the love between Krasinski and Blunt is so powerful. They just radiate love and joy whenever they're together and it's such a beautiful thing to see!
Besides talking at length about his wife, Krasinski also revealed that he's kind of a boring guy. Oh, and he loves wine parties. Here's how Krasinski described himself to Men's Health:
I was too boring and clean of a kid. I never got into a lot of trouble. Drugs and alcohol, all that stuff. I was never a big partyer. I'm more of a wine party type. If someone brought out some cheese and wine, I'd be here until 2 a.m. I love talking.
That might seem lame to other people, but Blunt clearly loves him the way he is!