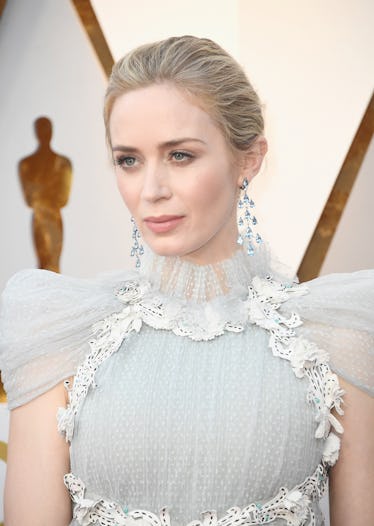 Emily Blunt's Whimsical Oscars Look Will Get You So, So Hyped For 'Mary Poppins'
Frazer Harrison/Getty Images Entertainment/Getty Images
While it makes sense that award show nominees are typically the ones in the spotlight, one of the presenters for this year's most important event has stolen it. Emily Blunt's 2018 Oscars look is so good that it deserves a golden statuette of its own. Although the actress isn't up for any awards herself tonight, her performance in 2016's The Girl on the Train was so riveting and raw that it will remain burned into people's memories for years to come. This includes members of the Academy, who asked Blunt to do an immense honor of presenting an award.
Although Blunt didn't win an Oscar for her performance in the epic movie, she could have. Based on the book of the same name (which is absolutely worth a read if you haven't picked it up yet), the film was frustrating, confusing, alarming, and edge-of-your-seat suspenseful — everything a good thriller should be. And it was all of those things thanks to Blunt's bone-chilling performance.
The actress was nominated for Best Actress in a Leading Role for The Girl on the Train at the 2017 British Academy of Film and Television Awards, and although she didn't win, her look was to die for. Blunt was dressed in the Alexander McQueen dress of my dreams, which featured a structured bodice embroidered with colorful plants, from which a skirt made of countless ruffles fell. It was elegant and edgy all in one and was certainly a look to remember.
As if any look could top this one, Blunt's look at the 2018 Oscars will absolutely send you into a frenzy. She walked the carpet wearing a confection sweeter than a spoonful of sugar, and the crowd went wild.
The Victorian neckline channeled the prim and proper Disney icon, while the Tiffany blue-tinged grey tulle gave a sweet softness to the look. The delicate appliqué framed her torso while the bow-like sleeves served us Cinderella-esque vibes.
The delicate, crystal blue of her elongated chandelier earrings definitely brought out the oceanic hue of her eyes.
On one hand, she wore her wedding ring and a tear-drop ring that matched her stunning earrings.
In her other hand, she carried a gorgeous spotted clutch that matched the fabric of her dress. She also sported a giant ring with a silver band and a blue gem.
Her soft and subtle makeup look also embodied an angelic grace worthy of Mary Poppins herself. Laura Mercier Celebrity Makeup Artist Ambassador Jenn Streicher created this look using none other than red carpet-friendly Laura Mercier cosmetic products. After prepping Blunt's skin with Vichy Mineralizing Thermal Water ($14; vichyusa.com) and Vichy Mineral 89 Hyaluronic Acid Face Moisturizer ($29.50; vichyusa.com), Streicher moved on to executing the makeup.
On Blunt's eyes, Streicher used Laura Mercier Eye Basics in Flax ($28; lauramercier.com) to prime the lid for all night long wear. Then, she smoked out the Laura Mercier Caviar Stick Eye Colour in Fog ($29; lauramercier.com) from the lashline to the crease, which Streicher said "brought out the color of her dress in a subtle way." To pop the look, she also used the Laura Mercier Eye Color in Ginger, Cashmere, and Topaz ($25; lauramercier.com). She also used the Laura Mercier Cavair Stick Eye Colours in Rosegold and Cocoa ($29; lauramercier.com) to highlight and add definition to the eye, respectively.
To create photographable skin with no flashback, Streicher primed with the Laura Mercier Hydrating Foundation Primer ($38; lauramercier.com) before applying the Laura Mercier Flawless Fusion Ultra-Longwear Foundation in Linen ($48; lauramercier.com). For additional coverage, Streicher turned to the Laura Mercier Flawless Fusion Ultra-Longwear Concealer in 2C ($28; lauramercier.com). To set the look, Streicher used red carpet-fave Laura Mercier Translucent Loose Setting Powder ($38; lauramercier.com) on the skin. To add life and dimension, Streicher also used the Laura Mercier Creme Cheek Colour in Rosebud ($28; lauramercier.com) and the Laura Mercier Face Illuminator in Devotion ($44; lauramercier.com).
Lastly, for Blunt's lips, Streicher applied the new Laura Mercier Velour Extreme Matte Lipstick ($28; lauramercier.com). She applied the shade Vibe all over the lip, then popped the center with a little Ruthless.
If you weren't excited for the Mary Poppins remake before, then you should certainly be now. Blunt is definitely making the sun shine bright with this look, and she's sure to do so in the movie as well.