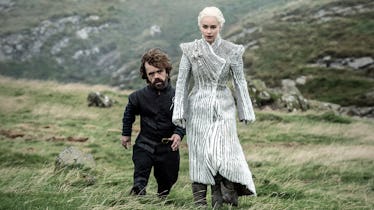 Emilia Clarke Reveals 'GOT' Season 8 "Spoilers" & She Should Honestly Go Into Comedy
HBO
Game of Thrones Season 8 has been a paragon of secrecy so far this season. For years, Game of Thrones filming, especially the outdoor stuff in Spain and Croatia, was a free-for-all for in the spoilers department. Seasons 5 and 7 were especially leaky sieves, though Season 6 wasn't much better. So far, though, we know little about Season 8. But at least one major actor is aiming to change that. The Mother of Dragons herself, Emilia Clarke is revealing Game of Thrones Season 8 spoilers... well "spoilers." But it's okay because it's all for a good cause.
The Game of Thrones cast is known for their charity work and their dedication to their causes. Maisie Williams gave away Arya themed T-shirts to raise money for the Dolphin Project. Lena Headey, who plays Cersei Lannister, works with the International Rescue Committee, using her fame to bring awareness and help for the migrant crisis in Europe. The whole cast has worked with the Omaze charity to raise money for the International Rescue Committee by giving away tickets to the Season 6 red carpet premiere. And they participated in NBC's first major Red Nose Day charity telethon (a yearly BBC event in the UK) by putting on Game of Thrones: The Musical.
With Season 8 full steam ahead filming, it's time once again for Game of Thrones to team up with Omaze for a new fundraiser. This one is going to benefit The Royal College of Nursing Foundation, which "provides vital support for the nurses, midwives and healthcare assistants." To help them raise money, Clarke is going to do everything in her power to give the audiences at home what they want: Season 8 spoilers.
Let's see how that works out for her.
Clarke is clearly in the wrong business. Forget the Terminator style franchises, let's not with the Me Before You weep-fests. This girl needs to go on the comedy circuit, stat.
And seriously, who can't identify with this being her trailer?
(Also, I love that the photos of the shrine to Khal Drogo are peppered with photos of George R.R. Martin. It's just the winning touch.)
Hold onto your dragon—you're joining Emilia Clarke (the First of Her Name, Queen of the Andals, Breaker of Chains, Khaleesi of the Great Grass Sea, etc.) for a behind-the-scenes peek of Westeros. That's right, you and friend are headed to the real home of Game of Thrones in Belfast, Northern Ireland! Once there, you'll get to ask Emilia all your burning questions over lunch with The Unburnt herself. And because you'll be with the rightful(ish) heir to the Iron Throne, you and your GoT-loving friend will have exclusive access to see things like costumes, props and more. Whether you bend the knee or not, you've pretty much won the Game of Thrones. Flights to the realm and hotel are on us.
To enter the contest, Game of Thrones has an Omaze page where fans can enter for $10. (£7.10, if you're in the UK/Northern Ireland, or 8.10€ if you're in the EU.) If selected, one lucky fan (and their friend) will win:
Lunch with Emilia Clarke
A sneak peek of what it's like on the Game of Thrones set in Belfast
A flight to Northern Ireland, staying in a 4-star hotel
Chances of seeing real Game of Thrones Season 8 spoilers? Well, I don't see anything about signing an NDA, so I'm guessing probably not. But considering how hilarious Clarke is in this video, I'll bet a lunch date with her would be an awesome laugh riot and worth $10 for the chance.
Game of Thrones Season 8 will arrive at some point in 2019 on HBO. Until then, Clarke should keep those spoilers under her white fur robes.