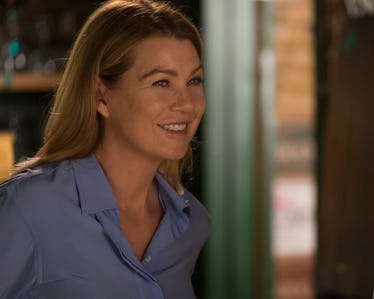 Ellen Pompeo's Instagram About The 'Grey's Anatomy' Season 14 Finale Will Wreck You
ABC/John Fleenor
Is it just me, or was the Grey's Anatomy Season 14 finale... happy? Fans saw not just one, but three weddings, no one died, and April and Arizona left the series on a good note. That's like the best-case scenario for a show that consistently leaves me sobbing week after week. But this is Shondaland, so of course my eyes weren't going to stay dry for long, and now, Ellen Pompeo's Instagram about the Grey's Anatomy Season 14 finale has me totally wrecked. Meredith, why'd you have to do this to me?
The Season 14 finale was definitely emotional, but not in the way that Grey's Anatomy fans have come to expect. There was no massive ferry crash (although there was a ferry), no catastrophic plane accident, no sudden appearance of Addison Montgomery-Shepherd (ah, the early days), and no emergency C-section. Instead, Shonda Rhimes treated fans to a sweet wedding between Alex and Jo. Even though their original plan fell apart, their makeshift wedding on the ferry boat with Meredith as the officiant was perfect for this longtime couple. And that wasn't the only wedding Grey's Anatomy fans saw: In a sudden turn, April and Matthew — the same dude she originally left at the altar for Jackson — decided to get married at Alex and Jo's original venue.
Yes, the Season 14 finale was Arizona (Jessica Capshaw) and April's (Sarah Drew) last, but I thought that their sendoff was more than proper. Ellen Pompeo seems to agree, because after the finale aired, she posted a heartfelt message about the Grey's Anatomy finale and thanked fans for their commitment to these characters.
"Over the last 14 seasons I've cried many tears on screen and off. This show has brought me so much joy and so much laughter, but truth be told it has never been easy," wrote Pompeo. "This year was no different. Saying goodbye to characters, cast mates, friends, is always very hard regardless of the circumstances. What remains and what keeps us going is the incredible passion and loyalty of our fans." Pompeo closed with a massive thank you to the fans:
So in classic Grey's bittersweet style, we will leave you tonight with tears in your eyes and hopefully smiles on your faces. Thanks for riding with us on this rollercoaster known as Shondaland. Much love, Ellen.
Awww. That finale did leave me with tears in my eyes and a smile on my face, Ellen. Grey's Anatomy means so much to so many people, and if the reaction to Capshaw and Drew's departure is any indication, Grey's viewers are some of the most dedicated fans around.
Grey's Anatomy will be back for Season 15 in the fall, so Pompeo has many, many more opportunities to continue that "classic Grey's bittersweet style." And next season, Pompeo can add "record-breaking" to that list, because with its fifteenth season, Grey's Anatomy will become the longest-running series in ABC's history. Not bad for a series that was originally scheduled in 2005 to be a mid-season replacement for another show.
Pompeo, who's taken on more responsibility as a producer and director in recent years, has been open about wanting to bring Season 15 further into the real world of medicine. She recently told E! News:
I'd like to get in to neurological diseases, and disease in general and talk about what's causing it. What we're ingesting, what we're inhaling, the chemicals that are in our food, water, air—what really is making people sick ... I would like to tackle the issue of illness and the chemicals in our environment that are poisoning the planet and our people.
It's too bad that Derek is dead, because you know he'd be all over an opportunity to research the real-world causes of neurological diseases.
Oh no. Now I'm crying again.