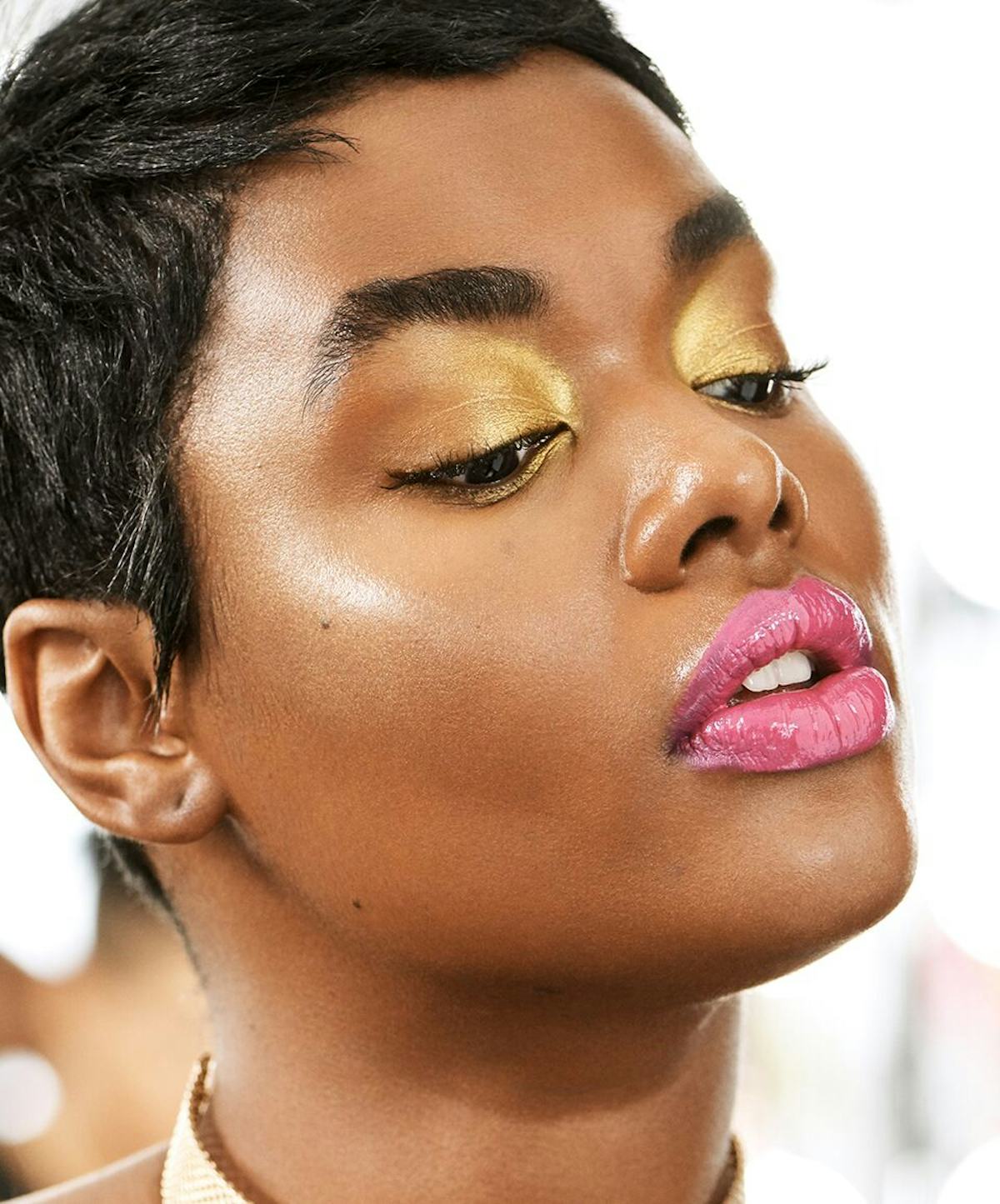 E.L.F. Cosmetics & Christian Siriano's Makeup Collection Is Super Cheap & So 'Lizzie McGuire'
Trevor Owsley/E.L.F Cosmetics
I'm not ashamed to admit that Lizzie McGuire was my style icon when I was younger. Her colorful wardrobe was my entire aesthetic. With the release of E.L.F. Cosmetics & Christian Siriano's newest collection, the early '00s are calling. Bright shades are making a comeback, and our inner Lizzie McGuire is totally having a moment. Whether or not you have a faithful Gordo in your life, these products are going to make your real life Miranda Sanchez place an E.L.F. order for both of you, stat.
When it comes to fashion month, I'm obsessed with dissecting the collections that appear on the runway. I so can't afford the beautiful pieces, but that's where Christian Siriano has stepped up. After debuting his 10th anniversary Fall 2018 runway show, the Project Runway alum released a collaboration with E.LF. cosmetics, and friends I'm shook. The palette is a must-have.
Inspired by Siriano's "psychedelic greenhouse" runway theme, the line features the perfect spring palette, lip products, and a cosmetic bag. In my mind, the metallic-fuchsia-and-lime-green design is a homage to a millennial Lizzie McGuire. She would definitely have this in her arsenal, and because I'm McGuire in 2018, I need this collection. Like more than McGuire needed Ethan Craft in her life.
According to Siriano's interview with Allure, the reason why he collaborated with E.L.F isn't due to their brand's affordable prices, it's because of their inclusivity.
Partnering with a beauty company that is actually really celebrating beauty, I think, was the most important thing. I want people to be able to relate to this collection. Beauty, out of everything, should be for everybody. Clothes have restrictions, whereas makeup is really a universal thing.
The entire collection is worth buying, but the standout is the eyeshadow palette.
I think what's nice with this palette is you can be thirty types of girls and use that one palette. That's how my collections are. You can be so many different types of women and wear something in my collection, and I wanted this to be similar.
If that wasn't enough, fans get another bonus courtesy of the brand: If you spend over $25, you score free shipping. The entire collection is $32, which means instead of getting hit with that annoying shipping fee, buy the cosmetic bag instead. If your tax person reprimands you for your beauty spending habit, tell him/her it's more economically sound to do away with shipping fees!
In the meantime, below is a breakdown of the products. With this collection, even the Kate Sanders in your life wouldn't dare to call you an outfit repeater. These products can elevate any outfit, even if it's the same white t-shirt and jeans combo.
The Rosé All Day Liquid Matte Lipstick
Formulated with vitamin E, this matte lip will not only nourish and condition your lips, but the consistency will not budge. The applicator is shaped in a slim, diamond shape, so you'll get the best application in one swipe. The rich pink shade will have you covered for the upcoming rosé wine season.
The Millennial Lizzie McGuire Tinted Lip Oil
This tinted lip oil is infused with jojoba, apricot, and vitamin E oil. That means your lips are getting triple the moisture and insider tip, if you apply a little more oil on your cupid's bow, it will give a natural plumping effect to your lips.
The Lifesaver Cosmetic Bag
Inspired by Christian Siriano's Spring 2018 collection, this bag will hold all of your beauty essentials. Whether you like to travel, or are always rushing out the door, this pouch will be your best friend.
The Seven Shades In Eyeshadow Heaven Palette
Featuring seven bold and subtle formulas, it's the perfect introduction to color. This palette is a triple threat because the largest shade can also work as a highlighter. Although I love my brown and nude shades, I have my eye on the green color.