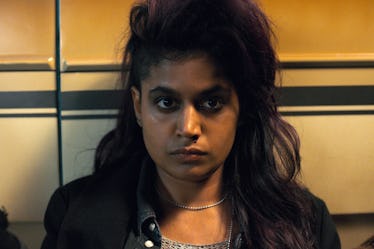 The 'Stranger Things' Creators Revealed Details About Eight In Season 3 & We Can't Wait
Netflix
At this point, most fans have finished Stranger Things 2 more than once, and those getting on the bandwagon have blazed through Seasons 1 and 2. That puts us in the aftermath portion, where we sit down and debate: Which parts were good? Which parts didn't work? The most controversial part of Stranger Things, by a country mile, is Episode 7. Love it or hate it, "The Lost Sister" engenders strong feelings, as does the character, Kali. Which is why it might be a surprise to learn that Eight is back for Stranger Things Season 3, or at least, she is for now.
Looking at the original title layout of Season 2 and listening to Netflix's aftershow Beyond Stranger Things, the story of "The Lost Sister" turns out to be an interesting one. The episode was originally entitled "The Lost Brother." More importantly, it wasn't going to be Episode 7 at first, it was supposed to be Episode 9.
Think about that. The original plan was for Eleven to beat the Mind Flayer, close the gate, and then there was a whole extra hour's worth of episode that would happen after that, where she went to Chicago, found Eight (who was originally a 30-year-old male) and spend a full episode away from Hawkins, only to return in time for the Snow Ball epilogue, where she and Mike would finally reunite.
When you realize *that* was the original order of events, Episode 7 doesn't seem quite so bad, does it? Even so, the Duffers toyed with cutting the excursion all together when they first removed it from the original Episode 9 slot. In an interview with The Hollywood Reporter, brother Ross Duffer revealed:
We were excited about spending a little time away. We only say it's like a movie, but it's not. So some of it is us experimenting with the form, this eight-hour, nine-hour thing … So, we got excited about taking a breather before we dive back in… and it annoyed some people.
With fans complaining, does that mean that Stranger Things will stick closer to home next season? That's not clear. But the Duffers are apparently planning to bring back Kali, at least in the draft they have now. Why? Because, while Eleven came home and resolved her story, Kali was left in Chicago, suddenly alone again after finding one of her own, only to be rejected. With that scenario, Matt Duffer can't see how they don't bring her back.
It feels weird to me that we wouldn't solve [her] storyline. I would say chances are very high she comes back.
Whether she'll go to Eleven in Hawkins, or if Eleven will go to her in the big city, that's still to be seen.
All of that being said, the Duffers want to remind everyone that Netflix hasn't actually confirmed there will be a Season 3. Once upon a time, that wasn't even a thing we worried about. Everything Netflix produced was auto-renewed. But in recent months, the streaming service has started cutting back ruthlessly. (Sorry Sense8ers.)
The next season of Stranger Things was already heading into pre-production when the show launched into a viral sensation, and by this time last year, Stranger Things Season 2 was already filming. This year, the Duffers are still in the stage of "working on it, just for our own amusement — for fun" while waiting to be given a green light.
Should we be worried there won't be a Stranger Things Season 3? With the numbers the second season put up, which were on par with Game of Thrones Season 7, it's hard to imagine Netflix wouldn't be raring to get another season in the can and up by Halloween 2018. Let's hope we find out one way or another, and soon.