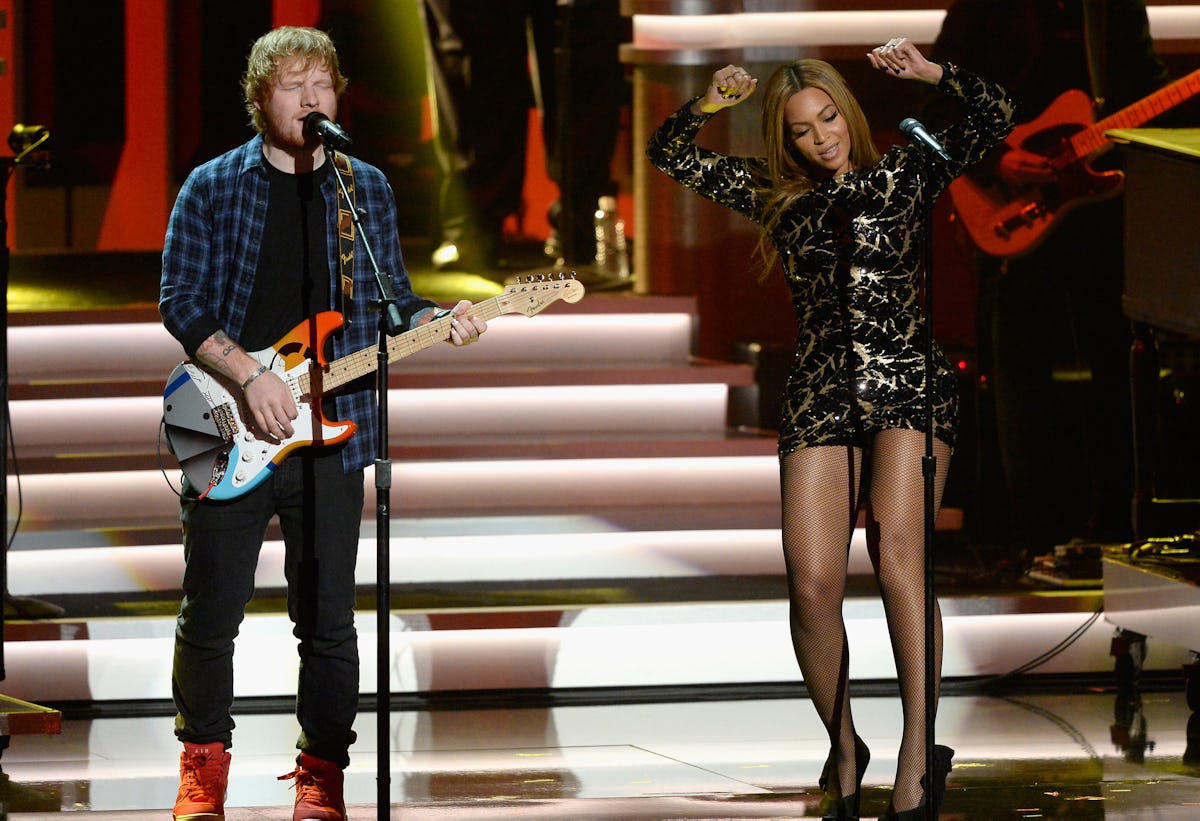 Ed Sheeran's Story About Working With Beyoncé Proves She's The Least Relatable Celeb
Kevork Djansezian/Getty Images Entertainment/Getty Images
If there is anything left good and holy in this world, then you've heard Ed Sheeran and Beyoncé's duet to "Perfect." If you haven't, do yourself a favor and take four minutes and 19 seconds to treat yo-self. The collaboration is a beautiful, slow waltz through one of Sheeran's best tracks, and a little sprinkling of Beyoncé always goes a long, long way. Ed Sheeran's comments on working with Beyoncé tell us two things: she is stupid talented, and also the least relatable celebrity out there. Just like we suspected.
Sheeran sat down with Entertainment Tonight to talk over the collaboration and what it was like to work with Queen B. From what we can tell, it's just like you think it would be... efficient, fascinating, and just a wee bit intimidating.
Sheeran explained that Bey switches her email address every week, and so he had to stay on his toes when communicating with her. (What, you guys don't have to do that?) He said, "I have an email address that I email, that actually changes every week."
He added, "It's kind of like what I aspire to be I think."
You think, dude? No, no, you DEF want to aspire to be Beyoncé.
The track was released on Nov. 30, and has had fans falling in love all day, every day since then. Have a listen.
I'll give you a minute.
Sheeran explained that he's been "holding onto" the track for some time, thanks to two little blips in their collaboration timeline. Of course, I'm talking about the birth of Beyoncé's twins, Rumi and Sir.
Sheeran continued, "Obviously she had twins [in June], and we finished it in September, so I've been holding onto it since then."
He also explained that Beyoncé took some liberties with the edit, which ultimately paid off in a huge way for Sheeran.
She rung me up and was like, 'I don't know how you feel about this but I've taken all the instruments off it and it's just gonna be acoustic guitar,' and I was like, 'Ah, that's great, because it used to be that!'
Not for nothing, Bey is a true professional. Sheeran said the main thing he picked up from her was "one-take vocals." This also made her really easy to work with.
When we got in together, it wasn't so much notes, it was very much like a back and forth thing, like, 'What'd you think of this?' Or 'What do you think of this?' and we were probably in the studio for four hours.
She was just like, 'Right!' Went in, one take, came out, like, 'Yeah, that sounds all right!'
In an interview with Ellen DeGeneres, Sheeran talked about his thought process asking the Lemonade singer to be a part of the song. Like any normal human being, he assumed she would say no. At the time, he had already performed with her twice.
He said,
The [original] song came out so long ago in the scheme of music … and I was like, I want to do it as a single, and then I thought of a way of relaunching it. I was like, 'I love Beyoncé. Should I ask Beyoncé?' And then in my head, I was like, 'She's going to say no,' but then I was like, 'Well, you might as well ask.' And she said yeah, so here we are.
Oh, so it's that easy, huh?
Sounds like all you have to do is get a hold of her weekly email address, make sure she isn't pregnant with literal demigods, and cross your fingers.
Check out the entire Gen Why series and other videos on Facebook and the Bustle app across Apple TV, Roku, and Amazon Fire TV.