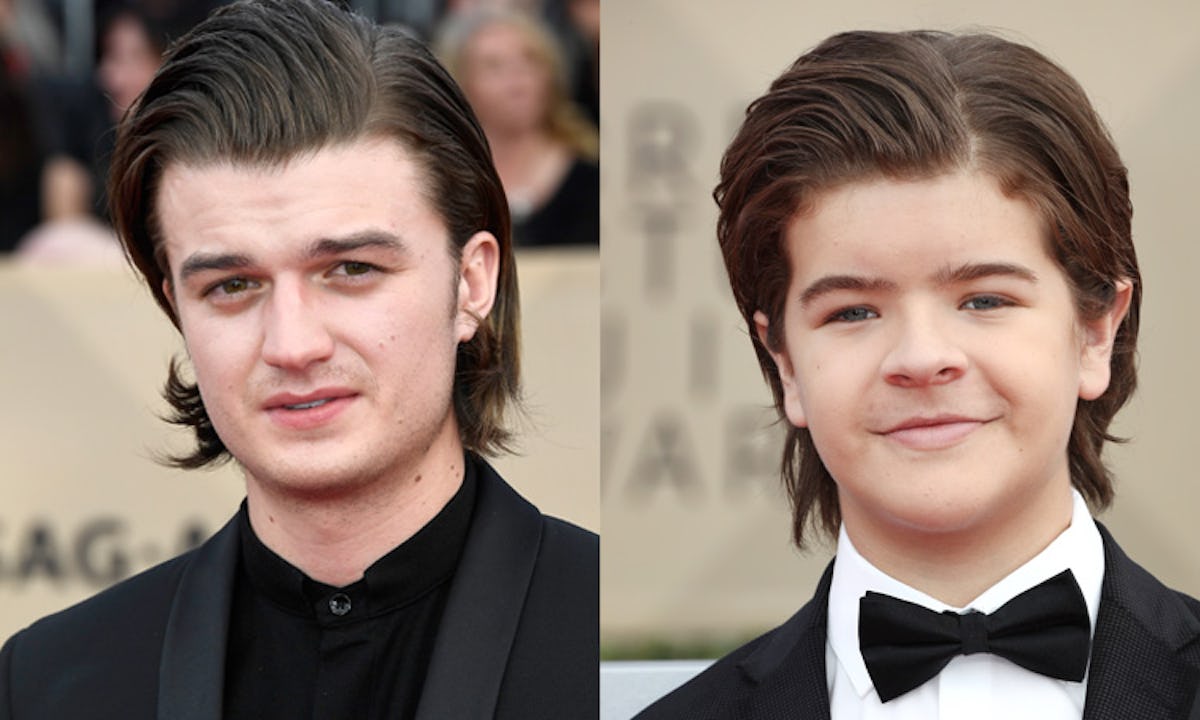 These Photos Of Dustin & Steve From 'Stranger Things' With Matching Hair Are Everything
Getty Images
There were a ton of great things about the second season of Stranger Things, but I think a lot of people would agree with me when I say Dustin and Steve's friendship is the best of the best. That's why it was such a treat for Stranger Things fans to tune into the SAG Awards on Sunday night and see actors Gaten Matarazzo and Joe Keery bringing their bromance to the red carpet... with their hair. Yep — Dustin and Steve from Stranger Things had matching hair at the SAG Awards, and the photos are just so perfect.
Steve Harrington's big, bushy blowout has become a huge element of Stranger Things as a whole, evolving from just a haircut to something of a meme among the show's fandom. Towards the end of the show's second season, Steve revealed to his new little buddy Dustin how to achieve his signature coif to help him get ready for the school dance. Turns out, he owes it all to Farrah Fawcett hairspray. Here's a reminder of that tutorial scene.
Fabergé. It's Fabergé Organics. Use the shampoo and conditioner and when your hair's damp, it's not wet, OK. When it's damp, you do four puffs of the Farrah Fawcett [hair] spray… You tell anyone I just told you that and your *ss is grass. You're dead, Henderson. Do you understand?
Well, clearly, it wasn't only Dustin who jotted down Steve's haircare tips, but also Gaten Matarazzo himself. Both Joe Keery and Matarazzo showed up to the SAG Awards on Sunday night rocking similar slicked-back, mid-length hair. Although the two stars don't play related characters on Stranger Things, their adorably, warm bond over this past season led to fans jokingly referring to them as family members, and they clearly played into the family resemblance on the red carpet. Check out the pics of Keery and Matarazzo with matching hair below:
Although the Stranger Things co-stars stole the red carpet with their killer matching hairstyles, the show unfortunately did not fare so well during the awards ceremony. Stranger Things was nominated for four SAG Awards this year, but sadly came up short in each categories. David Harbour (who plays Jim Hopper on the show) lost the Best Actor in a Drama Series award to This Is Us's Sterling K. Brown, and Millie Bobby Brown (Eleven) lost the Best Actress in a Drama to The Crown star Claire Foy. The show overall also fell short in the Outstanding Performance by a Stunt Ensemble in a TV Series category, where it lost out to Game of Thrones' extensive stunt department. And when it came to the award that I definitely thought the show was most likely to take home, Stranger Things wound up losing the Best Ensemble Cast in a Drama Series to This Is Us.
Although Stranger Things didn't take home any awards at the SAG Awards this year, fans can still look forward to the upcoming third season, which Netflix has already confirmed. Plus, the fandom got even more silly, fun, and adorable pictures and GIFs of the sci-fi series' beloved cast. Check out some of the best moments gifted to us by the Stranger Things cast at this year's SAG Awards below:
So, although we did not get to see the Stranger Things cast take to the stage on Sunday night to accept a SAG Award, the Stranger Things fandom still got to see their fave stars have a bunch of fun on the red carpet and in the audience at the 2018 ceremony. Now, we will just have to eagerly await the third season of Stranger Things... please hurry up with that, Netflix!