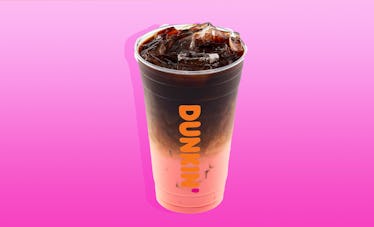 Dunkin' Brought Back The Pink Velvet Macchiato & This Classic Mocha Sip For Valentine's Day
Dunkin'
Dunkin's spreading the love with the return of a 'Gram-worthy Valentine's Day beverage. With Valentine's Day just around the corner, Dunkin's Pink Velvet Macchiato is making a comeback along with a new mocha sip. The festive drink looks as good as it tastes, so get ready to take your Valentine's Day Instagram posts up a notch.
The Pink Velvet Macchiato, which is back as of Jan. 27 and first made waves with its release in 2020, owes its aesthetic look to a distinct red velvet swirl, which is created from a blend of Dunkin's rich espresso with red velvet cake flavor and hints of cream cheese icing. The decadent beverage has a colorful pink-layered look when served on ice, making it the perfect holiday beverage. The suggested retail price for a medium hot Pink Velvet Macchiato is $3.69, while the suggested retail price of a medium iced Pink Velvet Macchiato is $4.19, depending on the location.
For 2021, fans can also delight in another Valentine's Day pick-me-up: the Mocha Macchiato, which is also available hot or iced. It was created as a "moody, mellow complement" to its more whimsical pink counterpart, per Dunkin's news release. (The Mocha Macchiato has been available since macchiatos launched at Dunkin' in 2015, but this is the first time it's been hyped as a Valentine's Day sip.) The beverage is a blend of Dunkin' espresso and mocha flavors, giving it a deep chocolate taste and, when served iced, a cool ombre appearance. The suggested retail price for a medium hot Mocha Macchiato is $3.69, while the suggested retail price for a medium iced version is $4.19. The actual price may vary depending on the location.
To accompany your sips, you can also pick up Dunkin's Valentine's Day Donuts through the end of February. The selection of heart-shaped donuts include the Brownie Batter Donut and the Cupid's Choice Donut. The Brownie Batter Donut is filled with chocolatey brownie batter flavored buttercream filling and it's frosted with chocolate icing. The Cupid's Choice Donut is a luscious treat filled with Bavarian Kreme and frosted with strawberry flavored icing. You can pick up the heart-shaped donuts at Dunkin' locations nationwide starting at only $1.19 per donut.
When grabbing your Valentine's Day sips or bites, you might want to consider ordering for delivery or pick-up in accordance with the coronavirus safety recommendations from the Centers for Disease Control and Prevention (CDC) as of Dec. 31, which cautions against unnecessary trips. If you decide to pick up your order, make sure to wear a face mask, and practice social distancing as much as possible and try to minimize your exposure to others. You should also wash or sanitize your hands after handling any packaging and before digging into your sweet treats.
If you think you're showing symptoms of coronavirus, which include fever, shortness of breath, and cough, call your doctor before going to get tested. If you're anxious about the virus's spread in your community, visit the CDC for up-to-date information and resources, or seek out mental health support. You can find all Elite Daily's coverage of coronavirus here.
This article was originally published on