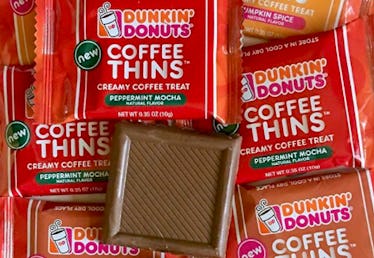 Dunkin' Donuts Is Reportedly Releasing Coffee-Flavored Chocolate & I Want Some
For many of us, drinking a cup of coffee in the morning with breakfast is a daily habit. I know it is for me. But what if instead of drinking your daily cup of java, you could eat it? You may soon be able to, thanks to a new edible collaboration between Coffee Thins and Dunkin' Donuts. The doughnut chain restaurant has reportedly created such a creation in a variety of flavors, and you may be able to snack on it sooner than you think. Dunkin' Donuts Coffee Thins are reportedly coming and they sound delicious.
The internet is full of rumors, but this one is just too good to pass up. A snack cookie full of caffeine from Dunkin' Donuts? Say no more. There are reportedly several flavors of Coffee Thins, and they all look pretty promising. According to the Instagram account Junk Food Mom, Dunkin' Donuts packaged up three flavors of the caffeinated cracker including Peppermint Mocha, Pumpkin Spice, and Caramel. All three are made with natural flavors. According to the packaging in the photo, Coffee Thins are a "creamy coffee treat." I don't know about you, but it sounds like Dunkin' Donuts is straight up skipping over summer and is headed straight for the holiday season with this mix of flavors. You know what? That's OK by me. It's too hot, anyway.
Krispy Kreme, one of Dunkin' Donuts' competitors as one might say, is already in on the Coffee Thins game. So could Dunkin' Donuts follow suit? Not quite yet, according to this statement Dunkin' Donuts issued to Elite Daily:
As a coffee leader, Dunkin' Donuts is committed to innovation and exploring new ways to offer consumers more options for enjoying the taste of our signature coffee while on-the-go. We tested Coffee Thins, which are pre-packaged wafers made using our brand's high-quality coffee beans, inside Dunkin' Donuts restaurants in 2014, and we are currently in discussions with Tierra Nueva to make Coffee Thins available at grocery stores and other retail channels later this year. We haven't finalized the specific details on the flavors or timing for the national launch at this time.
Bummer. The sooner, the better.
So where did Dunkin' Donuts Coffee Thins rumor come from? Each year, there is a food convention called the Sweets and Snacks Expo. This year, the event was held in Chicago, Illinois, and featured more than 800 exhibitors and roughly 18,000 candy and snack professionals. Foodies from around the country gather at the festival to sample on brand new food products from well-known vendors, including Dunkin' Donuts. That's where Junk Food Mom tells Elite Daily she first sampled Dunkin' Donuts' Coffee Thins. I really need to sign up for next year's convention.
Whether Dunkin' Donuts Coffee Thins are really coming or not, the doughnut chain sure knows how to tug at my heartstrings with their one-of-a-kind creations. Just a few weeks ago, Dunkin' Donuts announced three ice cream flavored iced coffees. The new menu items include Butter Pecan, Cookie Dough, and Pistachio. Oh, let's not forget about Dunkin Donuts' Chocolate Cake Batter Donut and Vanilla Cake Batter Donut. Like the ice cream-flavored iced coffee, these two cake-flavored doughnuts just hit the menu on Monday, May 28. Dunkin' Donuts always has something yummy up their sleeve, so I hope Coffee Thins actually become a thing the general public — like myself — can enjoy.
The snack cookie could just become your new best friend. I know it's probably going to become mine. Instead of spilling coffee all over myself (yes, I'm that person), I'll be wiping crumbs from the corners of my mouth. Or maybe I'll take it one step further and dunk one if these bad boys into my coffee. I just wanna know, are these going to give me coffee breath or not?