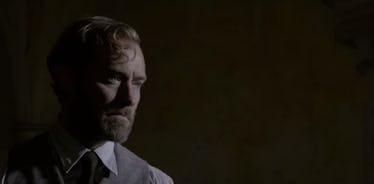 What Dumbledore Saw In The Mirror Of Erised In 'Fantastic Beasts 2' Explains So Much
Warner Bros. Pictures
This post contains spoilers for Fantastic Beasts: The Crimes of Grindelwald. In Fantastic Beasts: The Crimes of Grindelwald, Jude Law stepped into the mysterious shoes of Professor Albus Dumbledore. The original Harry Potter series emphasized that the Boy Who Lived wasn't as close to the enigmatic wizard as he thought he was, and the final book particularly focused on the family secrets Dumbledore kept to himself. In a nod to the ambiguity constantly surrounding him, Dumbledore saw Grindelwald in the Mirror of Erised, and his vision contrasts with what his older self later saw.
The Mirror of Erised is as classic as you can get in the Harry Potter fandom, first appearing in Harry Potter and the Sorcerer's Stone when Harry looked in the mirror and saw his deceased parents. Dumbledore later informed him that the Mirror showcased one's greatest desire, revealing that his own wish was a pair of woolen socks. Fitting with the secrecy Dumbledore maintained around Harry, author J.K. Rowling later revealed that, at that stage of his life, Dumbledore actually saw his own family, especially his dead sister Ariana.
Of course, your greatest wishes change as you grow, and as Crimes of Grindelwald confirmed, Dumbledore longed for something else in the sequel's 1927 timeline. As seen in the film's final trailer and elaborated in the movie, he desired his old relationship with Gellert Grindelwald (Johnny Depp) the most. When looking in the Mirror, Dumbledore first saw his and Grindelwald's younger selves agreeing to a blood oath, followed by an image of Grindelwald in the film's present day.
As Dumbledore admitted to Aurors trying to track down the evil wizard, the pair were once even closer than brothers. Potterheads know that Dumbledore actually fell in love with Grindelwald, but the latter fighting with Dumbledore's brother Aberforth inadvertently led to the death of the frail Ariana. According to Pottermore canon, Ariana died in 1899, more than 20 years before the events of Crimes of Grindelwald. Perhaps 1927's Dumbledore is still blinded enough by his feelings for Grindelwald to mourn what could have been.
Seeing as the Fantastic Beasts franchise is meant to culminate with an epic duel between the two wizards, it looks like Dumbledore eventually has a change of heart about Grindelwald, but fans will have to wait awhile to see it. With three more planned films and a likely time jump to reach the 1945 duel ahead of them, Rowling and her production team definitely aren't skimming through this story. The ending of Crimes of Grindelwald also set up a quest for the third film when Newt's Niffler smuggled Grindelwald's vial keeping the pair's blood oath alive. When Newt (Eddie Redmayne) presented the pendant to Dumbledore, the older man hinted he may be able to break the pact, thus allowing him to physically fight against Grindelwald. Well, it's clear that he succeeded somehow, so here's to finding out exactly how in an inexplicable amount of screen time.
While director David Yates received some flak for saying Dumbledore would not be "explicitly gay" in Crimes of Grindelwald, he has since hinted that future films will explore his teen romance with Grindelwald. We already caught a glimpse of teenage love in scenes of Leta Lestrange's school days, but fingers crossed that the men's lives in Godric's Hollow earn their own flashbacks soon.
Fantastic Beasts: The Crimes of Grindelwald is in theaters now.