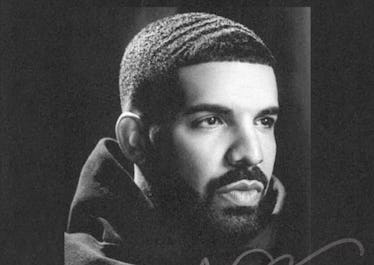 Drake Just Dropped The 'Scorpion' Tracklist & Fans Have One Major Question
Instagram/ChampagnePapi
Drake's latest album is just about ready to drop. On June 29, less than 24 hours away, music lovers everywhere will be devouring Scorpion and dissecting each and every lyric Drake has carefully laid out for them. But before they have a chance to do that, Drake has given them the opportunity to do something else: have a peek at the album's tracklist. Drake's Scorpion tracklist is unexpectedly long and interesting. And I'm about to break some of it down for you.
In total, Drake's new album includes 25 tracks, broken down into two an A Side and B Side. So, this is likely going to be a double-disc album — essentially a two-in-one kind of deal. And that bodes well for all the Drake fans out there who've been anxiously waiting for this album.
The A Side of the album includes 12 tracks and includes previously released songs "God's Plan" and "I'm Upset." Meanwhile, the B Side has a total of 13 tracks, including "Nice For What."
Drake posted the entire tracklist to his Instagram account on Thursday, June 28. Naturally, his fans ate it up. In just a few hours, the post has gotten some serious traction with nearly 1.5 million likes and over 70,000 comments.
Here's a look at the post and the full tracklist:
While the tracklist itself is extensive and gives really great insight into how this album will play out, it doesn't list any collaborators. Many have questioned who among Drake's contemporaries might be featured on the album. Names like Kanye West and Nicki Minaj have been thrown around by fans, but the tracklist doesn't give many clues.
There is one track that could hint at a collaboration with West, though: "March 14" which is on the B Side.
If you recall, Drake famously headed out to Wyoming around March 14, 2018, and that's where West was holed up making new music. So, maybe that particular track is a collab. But everyone will just have to wait and see.
Another thing fans are really curious about is whether there'll be a diss track where Drake will settle the score on the various feuds he's involved in right now. Based on the tracklist, though, it's difficult to tell which one it could be, if there is one at all.
Here's what fans are saying about a potential diss track on Twitter:
Just to give you a little background on the Drake/Pusha T situation: In May 2018, Drake sent Pusha T an invoice for $100,000. The reason? Well, Drake claims he revived Pusha T's career. Pusha T later released a track called "The Story of Adidon" in which he claims Drake will be using his alleged secret son to sell some sneakers:
Adonis is your son / And he deserves more than an Adidas press run
I don't know about you but, if I were Drake, I probably wouldn't take that lightly. So, fans are definitely expecting him to release a diss track as a response to the above.
Expectations aside, though, fans are just excited to be getting new music. On Instagram, they're actually going wild over the newly released tracklist.
"Wooow! lol. I'm so fkn pumped! Ima wake up & everyone gonna know the whole album already," one fan commented.
Another fan was pumped about the sheer amount of tracks on the album. "25 songs bro shoulda went for 30 like bron but you still great," they wrote.
"EXCITED can't wait to hear emotionless, is there more, SUMMER GAMES, IN MY FEELINGS (already draking), blue tint, and that's how you feel. WOAH," another fan said.
So, everyone's really looking forward to what Drake has in store for them. Just a few hours to go and they'll find out!