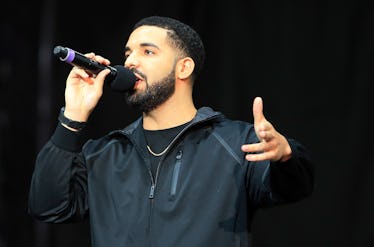 18 Lyrics From Drake's "In My Feelings" For Your Next Insta Caption
Vaughn Ridley/Getty Images Sport/Getty Images
Thanks to Drake, you've been continuously singing about a girl named Kiki, asking if she loves you. It didn't help that an entire "In My Feelings" challenge became popular all over the internet, and everyone, even celebrities, joined in on impressing the masses with their dance moves. Drake's "In My Feelings" Instagram captions can be used for the next picture you post, and it's never too late to join in on belting out the lyrics.
Isn't it funny how one person's perception of a song can ignite a huge social media trend? If you haven't seen Will Smith's "In My Feelings" challenge where he basically scales a bridge in Budapest (and includes in his Instagram caption, "Be smart, don't attempt doing this under any circumstances."), get ready to be amazed. In my opinion, he took the crown for this challenge, but thousands and thousands of others put their best foot forward to two-step for Kiki.
People are digging the whole Scorpion album, but it's safe to say that "In My Feelings" has stolen the spotlight. The song really has people in their feelings, and willing to participate in a random challenge, which is always entertaining to scroll through on your feed. Some of the challenge videos are incredibly creative and make you want to put down your work and dance at your desk. (Trust me, I'm guilty of the instantaneous need to dance like no one's watching after listening to only a snippet of the song.)
While the chorus about Kiki has become the highlight of the song, there are plenty of other lyric options that'll suffice for a solid Instagram caption. Of course, you can use them if you aren't participating in the challenge, too. Are you ready to be all up in your feelings? These are some lines from your favorite song on Drake's recent album.
1. "Kiki, do you love me?"
2. "This sh*t got me in my feelings."
3. "They gotta make some choices they runnin' out of options."
4. "Look, the new me is really still the real me."
5. "Say you'll never ever leave from beside me."
6. "I need that black card and the code to the safe."
7. "F*ck that Netflix and chill — what's your net-net-net worth?"
8. "Cause I want ya, and I need ya. And I'm down for you always."
9. "KB, do you love me?"
10. "I buy you Champagne, but you love some Henny."
11. "And when you popped off on your ex he deserved it."
12. "And when I take you shoppin', you spend it like you earned it."
13. "Now let me see you."
14. "I know you special, girl."
15."Cause I've been going off and they don't know when it's stopping."
16. "Code to the safe, code-code to the safe-safe."
17. "Yea, yea, yea, guess who's back."
18. "I just gotta be real with it."
I'm sure Drake had no idea how extensive everyone's reaction to that Kiki part would be. You gotta love the internet!