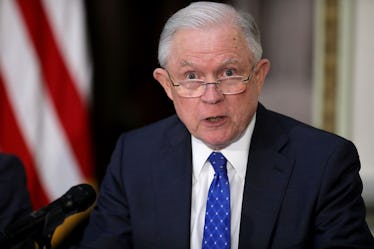 Twitter Is Calling Out The Wild Irony In Trump's Tweets About Jeff Sessions
Chip Somodevilla/Getty Images News/Getty Images
On Friday, Aug. 24, President Donald Trump's longstanding feud with the head of the Justice Department over its handling of ongoing investigations reached new heights. In a social media rant Friday morning, the president one-upped his public comments to the attorney general. The move is being met with backlash, and Trump's tweets about Jeff Sessions are getting called out.
The tweets Friday are part of a day of escalating back-and-forth between Trump and Sessions. The president has long been vocal about his disapproval of how Attorney General Sessions has handled investigations into his former opponent Hillary Clinton, as well as investigations into possible collusion between the Trump campaign and Russia and possible obstruction of justice by the president being led by FBI Special Counsel Robert Mueller.
In a Thursday appearance on Fox & Friends, the president also disparaged the attorney general's performance in his role, saying "Sessions never took control" of the department. His criticism was met with a rare moment of pushback by Sessions, who held his ground for the Justice Department in a statement on Thursday afternoon, saying, "While I am attorney general, the actions of the Department of Justice will not be improperly influenced by political considerations."
On Friday, Trump fired back. "Jeff, this is GREAT, what everyone wants, so look into all of the corruption on the 'other side' including deleted Emails, Comey lies & leaks, Mueller conflicts, McCabe, Strzok, Page, Ohr......" he tweeted, quoting Sessions' statement from Thursday.
In what became a series of tweets publicly calling out his DOJ head, Trump prodded Sessions repeatedly to take a firmer tack. "So unfair Jeff, Double Standard," Trump wrote in a second tweet Friday, and said, "Come on Jeff, you can do it, the country is waiting!" in a third.
Online, people jumped on the president's public statements and contradictory behavior towards Sessions.
From the get-go, the feud has been saddled with irony: Trump has waged war with a man that he himself hand-picked for the job. Moreover, Trump's criticism of Sessions' performance began just a few months after he started as attorney general at Trump's direction.
The president has been criticizing Sessions' leadership on Twitter since only a few months after he appointed him to head the DOJ, calling his position on investigating his former opponent Hillary Clinton "VERY weak" in July 2017. On Twitter Friday, some pointed to the discrepancy between what Trump says he wants Sessions to do — and what he says he wants Sessions to do.
Multiple people also pointed out the disconnect between what Trump is saying about Sessions and what he's saying to him. After the Fox interview, Trump met with the DOJ head in the White House, but he reportedly did not bring up any of these complaints with him during that conversation and kept things polite, according to The New York Times.
"Such a weird, dysfunctional dynamic," tweeted CNN's Julie Davis.
As The Washington Post's Greg Sargent pointed out in a thread, the president has invoked his power to control the DOJ, despite the complicated implications that come with that assertation. "Trump simply does not accept the core underlying idea that law enforcement answers not just to him, but to *the law and the people* as well," Sargent tweeted.
Trump's Friday tweetstorm is the latest development in escalating criticism Trump has publicly made towards Sessions online. But while Trump's attacks on Sessions are nothing new, recently, he's taken to actually telling the attorney general how to do his job, possibly signaling a deterioration in the dynamic — or at least, the tone — between the two men.
Why Trump's attacks on his attorney general have increased may have to do with recent developments in the Russia investigation, which made significant headway — and headlines — this week.
On Tuesday, Aug. 21, Trump's former campaign chairman, Paul Manafort, was convicted for financial crimes, the first trial resulting from the Mueller investigation. Also on Tuesday, the president's former lawyer Michael Cohen pleaded guilty to federal crimes, and claimed in his plea deal that Trump had directed him to make payments to two women who alleged they'd had affairs with the president. (Trump has denied all allegations of those affairs.) Elite Daily reached out to the White House for comment on Cohen's claims, but did not hear back.
Other key players, such as Manafort's former business partner/ former Trump campaign staffer Rick Gates, are cooperating with the FBI's investigation, being led by Special Counsel Robert Mueller. So it's not hard to see why Trump might have had reason to be upset with the department overseeing these cases and causing his former allies to turn on him.
To make matters worse for Sessions, some GOP lawmakers signaled that they were considering the possibility of Trump firing the attorney general and appointing a new one, a move that would likely come after the November midterm elections. (Trump denied similar rumors about firing Sessions back in April.) But while it remains unclear whether the president will take any such action against his attorney general, there's little question that he's not happy with him.