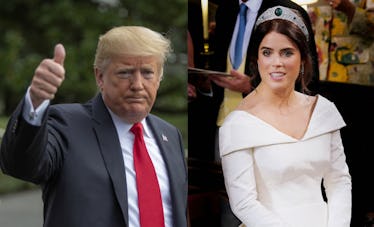 President Trump Congratulated Princess Eugenie On Her Wedding In This Baffling Tweet
Tasos Katopodis/Getty Images News/Getty Images/WPA Pool/Getty Images Entertainment/Getty Images
If you haven't been totally consumed with the second royal wedding of 2018, then let me fill you in with the news that Princess Eugenie of York wed her longtime boyfriend Jack Brooksbank at St. George's Chapel at Windsor Castle (that same location as Meghan and Prince Harry's nuptials) on Friday, Oct. 12. Of course, friends and family (and fans of the royals) were thrilled for the newlyweds, but I will say there was one reaction to the royal wedding that I was not prepared for. You guys, Donald Trump's tweet about Princess Eugenie's wedding has me seriously confused.
In a tweet from his official Twitter account on Sunday, Oct. 14, President Donald Trump penned a seemingly out-of-nowhere message about Eugenie's big day. He wrote,
Princess Eugenie of York was a truly beautiful bride yesterday. She has been through so much, and has come out a total winner!
Um... OK? Honestly, I don't even know where to start with this. Elite Daily reached out to the White House for further clarification about the message and the motivation behind the tweet, but did not hear back at the time of publication.
It's not like there's anything outwardly rude in the tweet, like some of his past name-calling messages directed at other public figures, but it just seems like it's coming straight out of left field.
Really, the existence of this tweet on its own is enough to make me scratch my head about what it all means.
Although, it could be some subtle shade toward Meghan and Prince Harry, who did not extend an invite to President Trump ahead of their May 19 nuptials this year (and who did not receive a congratulatory message from Trump on Twitter). There didn't seem to be bad blood, though, when White House spokesperson Lindsay Walters announced that President Trump and first lady Melania Trump were donating to the couple's chosen charities as a wedding gift, per US Weekly.
So, is Sunday's tweet a congratulatory message to Eugenie just for the sake of it, or is President Trump sending well wishes in lieu of his attendance? Elite Daily reached out to the White House and the Duke of York's press office about whether President Trump was invited to Princess Eugenie's wedding, but did not hear back at the time of publication.
Aside from the possibility of some presidential shade, there are also details in the tweet that have me asking more questions.
For starters, while Eugenie and Brooksbank did have a fair-themed daytime reception on Saturday, Oct. 13, they were officially married on Friday, Oct. 12, not "yesterday."
I mean, President Trump's reference in his Sunday tweet to "yesterday" could be about that second-day reception, but I think he was likely referring to the regal ceremony on Friday at Windsor Castle. That's not even really the most confusing part about this whole thing, though.
President Trump also referred to Eugenie as someone who "has been through so much, and has come out a total winner!" Elite Daily reached out to the White House for clarification on what President Trump was referring to with this part of the tweet, but did not hear back at the time of publication.
It's possible that President Trump was referring to the scoliosis surgery she underwent at just 12-years-old to fix the curvature in her spine, per BBC. Eugenie is actually quite proud of the resulting scar, so much so that she specifically requested an open-back dress to show it off on her wedding day. The meaning behind her choice is really touching, as she told ITV's This Morning ahead of her big day,
I had an operation when I was 12 on my back, and you'll see on Friday, but it's a lovely way to honour the people who looked after me and a way of standing up for young people who also go through this.
I'll take a break from trying to piece together why this tweet even exists to go ahead and stan Princess Eugenie for using her wedding dress as a really thoughtful gesture.
Actually, I think it's time to break from trying to figure this out all together. Perhaps President Trump got caught up in royal wedding frenzy and just had to share his well wishes with the bride, or maybe he really thought this tweet specifically for Eugenie would be a great dig at Meghan and Prince Harry for keeping him off their wedding guest list. TBH, I'm not sure if you'll ever know the exact reason for the tweet.
What is certain is that Eugenie and Brooksbank had a beautiful ceremony on the grounds of Windsor Castle, and they put another gorgeous wedding in the books for fans of the royals all over the world — apparently including the White House.