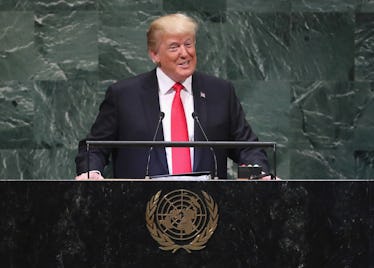 Donald Trump's Response To The Laughter During His UNGA Speech Is So Awkward
John Moore/Getty Images News/Getty Images
President Donald Trump has had his fair share of gaffes this year, from sharing awkward tweets to spreading misleading claims — but nothing beats what went down during his speech at the United Nations General Assembly on Tuesday, Sept. 25. During his opening remarks, Trump touted the accomplishments of his administration, claiming that it "has accomplished more than almost any administration in the history of our country," which prompted an immediate (and super embarrassing) ripple of laughter from the audience — plus a surge of jokes on social media. As a result, he quickly tried to clear up what happened, but Donald Trump's response to the laughter during his UNGA speech is adding on even more awkwardness. Sigh.
According to Trump, the giggles were NBD because he totally meant for people to laugh at his comments. CNN correspondent Jim Acosta shared Trump's response just hours after the speech, tweeting that the president said, "Oh it was great. Well that was meant to get some laughter, but it was great."
But the thing is: Trump appeared to be pretty flustered following the laughs, tilting his head in apparent shock and giving off a somewhat uncomfortable facial expression. He even said that he didn't expect the laughter, saying, "Didn't expect that reaction, but that's OK." So I'm not sure if that's a normal reaction for a supposed intentional joke, but to each his own, I guess. Take a look and decide for yourself:
See what I mean?
Immediately after the moment, many people took to Twitter to poke fun at the apparent blunder, with some arguing that the crowd was laughing at Trump, not with him, People reported.
Several Twitter users brought up how ironic it was that Trump had often tweeted in the past about other countries laughing at the United States' leadership. FRANCE24's Philip Crowther pointed out a 2014 tweet of Trump's, in which he wrote about how the U.S. needed a president who "isn't a laughing stock to the entire world."
"Trump has long attacked Obama by claiming that the world was laughing at his leadership," The Washington Post's Philip Rucker wrote. "Today, world leaders at the UN laughed at Trump's claim that his administration has accomplished more than any in US history."
Of course, memes of the speech immediately took over the internet, too, and they were even wilder than the tweets.
Some users shared "footage" of Trump and the audience following the embarrassing moment.
"The many moods of Trump's UN speech":
A Twitter user by the name Shari Anne Heath questioned Trump's response to the laughter, tweeting out a photo of "plaid shirt guy," who went viral earlier in September, giving the commander-in-chief a confused look.
In hindsight, after all the outrage that stemmed from his speech, I can see why Trump responded to the laughter the way he did, even if the blunder wasn't intentional. I mean, those jokes were seriously brutal. So let's just let him have this one — what do ya say?