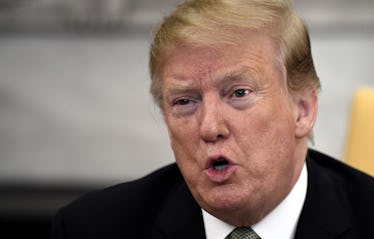 Trump Sent "Best Wishes" To The New Zealand Shooting Victims, Calling It A "Horrible Massacre"
Pool/Getty Images News/Getty Images
Early on Friday, March 15, mass shootings in two New Zealand mosques left 49 people dead and 20 people injured, per CNN. Donald Trump's response to the Christchurch, New Zealand, shooting sent his "warmest sympathy" and "best wishes" to those in the country. Within his tweet, the president went on to call the horrific shooting a "horrible massacre" and made it clear that the United Stands stands by New Zealand during this time. Elite Daily reached out to the White House for further comment on President Trump's tweet, but did not hear back by the time of publication.
Both shootings, which are now reportedly being considered a "terrorist attack" by New Zealand's prime minister, took place at the Al Noor Mosque and the Linwood Mosque in Christchurch around Friday Prayer, per The New York Times. It's been reported that four suspects have been taken into custody, including a man in his 20s who has already been charged with alleged murder, according to the publication.
Prime Minister Jacinda Ardern responded to the terrorist attack, calling it "one of New Zealand's darkest days." The country's leader also tweeted about the tragedy, calling what happened in Christchuch an "extraordinary act of unprecedented violence." She continued, saying that such an act has "no place in New Zealand."
President Trump's tweet offered a reassurance that the United States would be there for the country of New Zealand. He wrote:
My warmest sympathy and best wishes goes out to the people of New Zealand after the horrible massacre in the Mosques. 49 innocent people have so senselessly died, with so many more seriously injured. The U.S. stands by New Zealand for anything we can do. God bless all!
However, it was missing one thing.
As you can see, Trump's tweet didn't mention the fact that the victims were killed in a shooting. Elite Daily reached out to the White House for comment on why the president didn't specifically say that it was a shooting, but did not hear back in the time of publication.
This seems to be an ongoing pattern with the president that people are beginning to pick up on. Following the Aurora, Illinois, shooting in mid-February, Trump tweeted about the tragedy and didn't call it a shooting. Instead, he used Twitter to applaud the law enforcement involved and to share his "heartfelt condolences" to the victims and their families. He ended his tweet with, "America is with you!" Elite Daily reached out to the White House for further comment on Trump's statement at the time, but did not hear back at the time of publication.
After news broke about the mass shooting in Christchurch, New Zealand, the White House provided a statement by Sarah Huckabee Sanders, Trump's press secretary. According to The New York Times, the statement said, "The United States strongly condemns the attack in Christchurch. We stand in solidarity with the people of New Zealand and their government against this vicious act of hate."
According to CNN, John Bolton, the country's national security adviser, talked to reporters on Friday morning about the mass shooting. He provided a statement the followed the White House's address. Bolton stated,
We're obviously greatly disturbed on what seems to be a terror attack, this hate crime in New Zealand. We've been in touch with our embassy overnight, we're still getting details, but the State Department and others are following up on it. We're very concerned, we're going to cooperate with New Zealand authorities to the extent we can if there's any role we can play, but we're obviously following the events there very closely.
Trump hasn't made any more Twitter announcements regarding the mass shooting in New Zealand since his initial response early on Friday morning. Other leaders who commented on the tragedy include French President Emmanuel Macron, British Prime Minister Theresa May, and more.