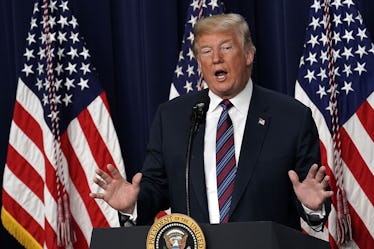 Trump Suggested "No Talent Samantha Bee" Should Get Fired, Because Of Course
Alex Wong/Getty Images News/Getty Images
On Friday morning, June 1, President Donald Trump had his say on Samantha Bee's comments about Ivanka Trump. Two nights earlier, the late night host called the president's daughter a "feckless c*nt," a comment for which she later apologized. Trump's response to Samantha Bee suggested that the host should be fired.
"Why aren't they firing no talent Samantha Bee for the horrible language used on her low ratings show?" the president tweeted. "A total double standard but that's O.K., we are Winning, and will be doing so for a long time to come!"
Trump's mention of a "double standard" appeared to be an allusion to the fate of Roseanne Barr, whose show on ABC was cancelled earlier in the week after Barr invoked an age old racist trop, comparing a black woman to an ape.
A day before Trump's tweet, the White House released an official statement on Bee's comments. In the statement, spokeswoman Sarah Huckabee Sanders also appeared to suggest Bee should be fired, albeit more subtly.
"The language used by Samantha Bee last night is vile and vicious. The collective silence by the left and its media allies is appalling," the statement read, per CNN. "Her disgusting comments and show are not fit for broadcast, and executives at Time Warner and TBS must demonstrate that such explicit profanity about female members of this administration will not be condoned on its network."
On Wednesday night, May 30, Samantha Bee focused a monologue on the immigration policies of the Trump administration, including criticism of the administration separating families that attempt to cross the United States' southern border illegally.
"Tearing children away from their parents is so evil," Bee said during her monologue, "it's the inciting incident in almost every movie we've ever cared about."
Bee then went on to talk about Ivanka Trump, who days earlier had prompted criticism after posting a picture of herself hugging her son, Theodore. The photo was deemed by critics to be tone deaf and insensitive, particularly because it came at a time when the Trump administration's treatment of migrant families was a top news story.
"Ivanka Trump, who works at the White House, chose to post the second most oblivious tweet we've seen this week," Bee said. "You know, Ivanka, that's a beautiful photo of you and your child, but let me just say, one mother to another, do something about your dad's immigration practices, you feckless c*nt."
She added afterwards, "He listens to you. Put on something tight and low-cut and tell your father to f*cking stop it. Tell him it was an Obama thing and see how it goes, OK?"
The monologue, and the language used, instantly became the subject of headlines on multiple news sites. Some critics wondered where Bee's comments, and the lack of outrage they attracted, was indicative of a double standard.
When asked on Twitter what type of reaction there'd be if show host used the same language to describe Hillary Clinton if she were president, CNN's Brian Stelter, who covered the news media, responded, "There'd be widespread criticism. And there should be this time, too. How about we debate Trump's policies without resorting to profanity?"
Less than 24 hours after the monologue, Bee apologized.
"I would like to sincerely apologize to Ivanka Trump and to my viewers for using an expletive on my show to describe her last night," the Full Frontal host tweeted. "It was inappropriate and inexcusable. I crossed a line, and I deeply regret it."
Now, a day later, the president has weighed in with a predictable response: a tweet taking a jab at Samantha Bee's talent and a suggestion that she should be fired.