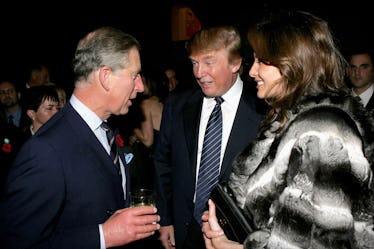 Donald Trump Has Said Some Pretty Creepy Stuff About Women In The British Royal Family
Chris Jackson/Getty Images Entertainment/Getty Images
It's no secret that Prince Harry and the British royal family had a pretty friendly relationship with Barack and Michelle Obama. With the new president, however, it's safe to say that any relationship between the White House and Buckingham Palace would have a way to go. And if there's one reason why, it's because there's a history of unsavory Donald Trump quotes about the royal family.
In March 2017, royal biographer Christopher Andersen told The Daily Beast, "The Duke and Duchess of Cambridge and Prince Harry have all privately expressed their distaste for Trump. Trump went after Diana so aggressively, peppering her with phone calls, showering her with flowers, that she complained to a friend he was giving her 'the creeps.'" Elite Daily reached out to Kensington Palace for comment on this claim, but did not hear back immediately.
As Andersen mentioned, Trump had a well-documented desire to pursue Princess Diana, the mother of Princes Harry and William. In his 1997 book, Trump: The Art of the Comeback, the president wrote, "I only have one regret in the women department — that I never had the opportunity to court Lady Diana Spencer. I met her on a number of occasions."
Trump also talked about that desire for Diana in interviews after her death, joking during one appearance on Howard Stern's radio show about hypothetically asking the princess to get tested for HIV.
"When it comes to the younger royals, especially given his crude comments about Diana after her death, it is hard to imagine that Charles, William, Harry and Kate will view Trump as anything but crass and overbearing," Andersen told The Daily Beast.
Trump has also talked about Kate Middleton, the Duchess of Cambridge and wife of Prince William. Back in September 2012, when topless photos of Middleton sunbathing in what she believed to be privacy had been published by a tabloid (and when Trump was still primarily a reality star who doubled as a cultural critic on social media), Trump tweeted, "Kate Middleton is great — but she shouldn't be sunbathing in the nude — only herself to blame. Who wouldn't take Kate's picture and make lots of money if she does the nude sunbathing thing. Come on Kate!"
And then there's Meghan Markle. No, Trump hasn't said anything noteworthy about her. Actually, it's the other way around. During a 2016 appearance on The Nightly Show with Larry Wilmore, Markle made it clear she is not a fan of Trump.
"With as misogynistic as Trump is, and so vocal about it, that's a huge chunk of it," Markle said. "You are not just voting for a woman if it's Hillary just because she is a woman, but certainly because Trump has made it easy to see that you don't really want that kind of world that he is painting for us."
The royal family has already announced that Trump is not invited to Prince Harry and Meghan Markle's wedding, but that's because no world leaders are invited to the event at all.
"This is very much about them getting married surrounded by their families and friends," the Daily Mail quoted a source as saying. "It is not a big state occasion in any way. It is an intimate family wedding. Well, as intimate as a royal wedding can be."
Neither the Trumps, nor the Obamas (nor British Prime Minister Theresa May, even) will be at the wedding. But even without the desire for world leaders to be at the wedding, it's hard to imagine Trump would be in attendance.
We've already seen the president avoid the funeral for one member of a notable American family, when he didn't attend Barbara Bush's funeral "out of respect." Plus, The New York Times reporter John McCain has already stated he wouldn't want the president at his funeral, either.
As is the case with the McCains and the Bush family, Trump clearly has a history of saying things that the royal family appears to have personally taken exception to.