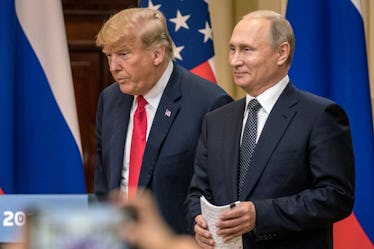 Trump Had An "Informal" Meeting With Vladimir Putin At The G-20 After Initially Canceling
Chris McGrath/Getty Images News/Getty Images
President Donald Trump has been busy at the G20 summit in Argentina, mingling and rubbing shoulders with fellow leaders from the world's leading countries. He also sat down for a chat with Russian leader Vladimir Putin on Friday, Nov. 30, according to multiple reports, despite canceling plans to do so in the days before. But it wasn't a typical conversation between world leaders. Instead, Donald Trump's meeting with Putin at the G20 summit was an "informal" conversation.
The pair reportedly engaged in a quick conversation during a dinner with world leaders in Buenos Aires on Friday evening, per USA Today. "As is typical at multilateral events, President Trump and the First Lady had a number of informal conversations with world leaders at the dinner last night, including President Putin," the White House said in a statement shared to USA Today on Saturday, Dec. 1. According to the outlet, the details of those conversations are still unclear. Elite Daily reached out to the White House for further comment on the matter, but did not hear back by the time of publication.
The day before, Nov. 29, Trump canceled a formal meeting with Putin at the last minute in the wake of Russia's seizure of multiple Ukrainian ships and sailors after accusing them of illegally wading into Russian waters. "Based on the fact that the ships and sailors have not been returned to Ukraine from Russia, I have decided it would be best for all parties concerned to cancel my previously scheduled meeting in Argentina with President Vladimir Putin," Trump tweeted aboard Air Force One while on his way to the summit on Thursday afternoon.
The news also came as both Trump and Putin were shoved back into the spotlight in the wake of new developments in the ongoing probe by FBI Special Counsel Robert Mueller into potential collusion between Russia and members of the Trump 2016 campaign.
On Thursday, Nov. 29, Trump's former longtime lawyer and fixer Michael Cohen pleaded guilty to lying to Congress about Trump's plans for building a new Trump Tower in Russia during the presidential election, per The New York Times. He'd previously told authorities that plans to build a Trump Tower in Moscow ended in January 2016, however, the plans lasted far longer into the year — up until the summer of 2106 when Trump was the presumptive presidential nominee. The admission could indicate that the president did have financial interests in Russia while running for office in 2016. Representatives for Cohen and the White House did not return Elite Daily's request for comment on the subject.
Following the plea, Trump tore into Cohen, calling him a "weak person" who is lying about the Russian real estate plans to get a reduced sentence. Elite Daily reached out to the White House for further comment on Trump's remark, but did not hear back. Trump also ripped into Mueller's investigation, calling it a "Witch Hunt" (again) and an "illegal hoax."
While it's unclear what exactly Putin and Trump discussed in their "informal" sit-down during the G20 summit, something tells me that there really was no shortage of potential topics.