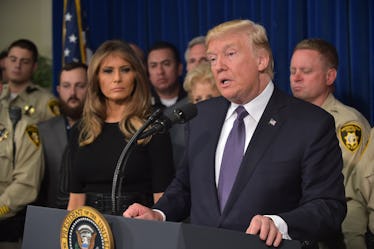 Donald Trump's Las Vegas Speech Didn't Mention Gun Control Once
MANDEL NGAN/AFP/Getty Images
Three days after the deadliest mass shooting in modern U.S. history, President Donald Trump traveled to Las Vegas, Nevada to meet with survivors and offer words of condolence. But the words he offered were missing a very notable piece of the puzzle. President Trump's Las Vegas speech didn't mention gun control, and the president refused to talk about gun violence during his trip on Wednesday, Oct. 4.
In his speech, the president focused on the heroics from those who found themselves in the middle of the shooting, speaking in honor of law enforcement and civilians who, as he put it, "dashed into a hail of bullets" to rescue strangers. He spoke of parents and spouses who used their own bodies as shields to protect their loved ones and those who were still in the hospital recovering from their injuries. He said,
The mass murder that took place on Sunday night fills America's heart with grief. America is truly a nation in mourning. ... Many families tonight will go to bed in a world that is suddenly empty. The people that they so dearly love were torn away from them forever. Our souls are stricken with grief for every American who lost a husband or a wife, a mother or a father, a son or a daughter. We know that your sorrow feels endless. We stand together to help you carry your pain. You are not alone. We will never leave your side.
The speech was appropriately somber and mournful for tragedy of this kind, and the president delivered his remarks with laudable gravitas. But there was something missing.
Namely, that despite renewed calls for a discussion of gun violence in America, the president did not address how to prevent such shootings, the increasingly loud public and political demand for better gun control measures, or America's history of mass shootings.
It's a disappointing — but unsurprising — move for the president.
Immediately after the shooting, White House Press Secretary Sarah Huckabee Sanders told reporters that it was not the time to talk about gun control. "I think that there will be certainly time for that policy discussion to take place, but that's not the place that we're in at this moment," she said.
And Trump himself, as he arrived in Las Vegas, responded to a reporter's question about gun violence by waving it away. "We're not going to talk about that today. We won't talk about that," Trump said, per CNN.
The shooting at the Mandalay Bay Resort and Casino on Sunday, Oct. 1 is the new record for the deadliest mass shooting in modern United States history. At least 59 people were killed, and more than 500 more were wounded. And while there have been many, many stories of heroism to give Americans hope as the country recovers from the shock, there have also been many calling for an acknowledgement of the reality that America has a problem with gun violence.
It's been barely a year since the previous grim record was set in Orlando, Florida, where 49 people were killed and 58 more wounded when a shooter entered the Pulse nightclub and opened fire in June of 2016. Less than four years before that, a man entered Sandy Hook Elementary School in Newtown, Connecticut and killed 26 people, 20 of whom were young children. And in the not quite five years since the Sandy Hook shooting, there have been at least 1,518 mass shootings, killing at least 1,715 people, according to Vox.
In the aftermath of both of those shootings, then-President Barack Obama spoke openly about the problem of mass shootings. In response to the Pulse shooting, he began his remarks by speaking of "the need for us to implement smarter policies to prevent mass shootings." And after Sandy Hook, a visibly emotional Obama said that the country would have to "take meaningful action to prevent more tragedies like this, regardless of the politics."
And the need to do so is becoming increasingly urgent. A Washington Post analysis found that though mass shootings aren't becoming more frequent, they are becoming more deadly, and heavily so.
Whether the president wants to discuss gun control or not, there are other legislators who do. Connecticut Sen. Chris Murphy said on Oct. 2 that Congress needs to "get off its ass and do something" about gun violence, according to NBC News, and many of his colleagues — including Sen. Elizabeth Warren (D-MA), Sen. Tim Kaine (D-VA), Sen. Cory Booker (D-NJ) and more — also added in their own condemnations.
Whether the president and their Congressional colleagues will agree with them remains to be seen.