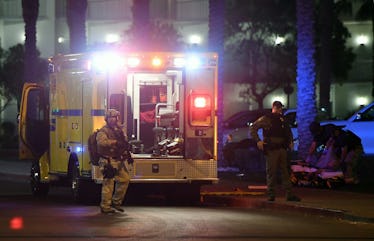 Twitter Is Calling For #GunControlNow After Horrifying Las Vegas Shooting
Ethan Miller/Getty Images News/Getty Images
On Sunday Oct. 1, the deadliest massacre in modern U.S. history occurred in Las Vegas. Understandably, many want the United States government to take action — and they want to see it right now. Tweets about gun control are pouring in on the social media platform, each demanding that the government stop turning a blind eye to this glaring, tragic problem in America.
And the latest version of the problem is what America saw on Sunday evening, when a gunman stood in a room on the 32nd floor of the Mandalay Bay Resort and Casino and opened fire at 22,000 people attending an outdoor concert below. According to authorities, the attacker had 17 firearms in his hotel room, including automatic rifles, which have the ability to shoot several rounds of bullets with just one squeeze of the trigger.
The shooter killed 59 people and injured over 500.
Sadly, this is not a unique story. In Dec. 2012, a gunman walked into Sandy Hook Elementary School in Newtown, Connecticut, and murdered 20 children and six adults with a rifle. Last year, a man walked into a nightclub in Orlando and killed 49 people, wounding 58 more. And in the not quite five years since the Sandy Hook shooting, there have been at least 1,518 mass shootings, which killed at least 1,715 people and wounded 6,089 others, according to Vox.
So, what's being done about these horrific statistics?
Well, according to White House Press Secretary Sarah Huckabee Sanders, now apparently is not the time to discuss next steps for dealing with the country's gun violence problem. She said during a press conference on Oct. 2,
Today is more, again, like I said, a day of reflection, a day of mourning, a day of gratefulness for those that were saved. I think that there will be certainly time for that policy discussion to take place, but that's not the place that we're in at this moment. Certainly, I think there's a time for that to happen."
This point was also driven home by Majority Leader Mitch McConnell, who said, "what is clear now is that this is a moment for national mourning and prayer."
But for a lot of people, it was also the moment to make some changes.
On Monday evening, the hashtag #GunControlNow started trending on Twitter, with Americans expressing their frustration that the same exact tragedy has been occurring over and over again in this country without a serious effort to put a stop to it.
The call for gun control legislation is a sentiment echoed by many Congressional Democrats, who expressed anger and frustration that their colleagues weren't being proactive about solutions to this epidemic. Some also accused their fellow legislators of catering to the National Rifle Association (NRA)'s agenda.
This is definitely not a crazy accusation. The Washington Post noted that, as of Oct. 2017, the NRA has donated $3,555,194 to current members of Congress.
And the Trump administration has been friendly to the gun lobby. In February, the administration quietly repealed an Obama-era regulation that prevented people with mental illnesses from being allowed to buy firearms.
"It is positively infuriating that my colleagues in Congress are so afraid of the gun industry that they pretend there aren't public policy responses to this epidemic," Sen. Chris Murphy (D-CT) said in a statement on Oct. 2. "There are, and the thoughts and prayers of politicians are cruelly hollow if they are paired with continued legislative indifference. It's time for Congress to get off its ass and do something."
He then reiterated his point on Twitter.
Sen. Richard Blumenthal (D-CT) added in a statement,
My heart breaks for Las Vegas: the victims, their families, their friends, and their entire community, It has been barely a year since what was previously the largest mass shooting in American history - the deadly attack at Pulse nightclub. In the interim, thousands more have been lost to the daily, ruthless toll of gun violence. Still, Congress refuses to act. I am more than frustrated, I am furious.
Sadly, we've been through this before — after the Pulse nightclub shooting in June 2016, Congressional Democrats held a sit-in on the floor of the House of Representatives to demand a vote on gun control legislation. No legislation passed.
Here's hoping we get a little less "thoughts and prayers" and a whole lot more action this time around.