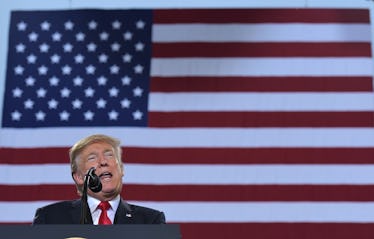 Donald Trump Doubled Down On His NFL Feud In Ridiculous 'Hannity' Interview
MANDEL NGAN/AFP/Getty Images
President Donald Trump doesn't do televised interviews terribly often, seeming more comfortable sharing his thoughts from behind a Twitter account. But on Oct. 11, he did a sit-down with Fox News commentator Sean Hannity outside of Harrisburg, PA, attended by a crowd of vocal Trump supporters. And while the interview ranged over a number of subjects, one was particularly exasperating. Trump doubled down on his feud with the NFL over protests against racial bias and the national anthem.
In the interview, surrounded by self-professed supporters and reported Trump ally Hannity, Trump specifically called out former San Francisco 49ers quarterback Colin Kaepernick, who started kneeling during the national anthem back in 2016 as a protest against police brutality and racial bias. "I watched Colin Kaepernick and I thought it was terrible. And then it got bigger and bigger and started mushrooming," the president said. He continued,
Frankly, the NFL should have suspended him for one game, and he would have never done it again. They could have then suspended him for two games, and then could have suspended him for the third time for the season, and you would never have had a problem. But I will tell you, you cannot disrespect our country, our flag, our anthem. You cannot do that.
It's the latest needling poke after Trump picked a fight with the NFL late last month over protests in which athletes knelt during the national anthem to protest racial discrimination and police violence. Though the movement was initially small, after the president tweeted out that protesting athletes should be fired, it took off. In the weekend following Trump's tweets, over 100 players choose to kneel in demonstration during subsequent games.
Earlier in the day on Wednesday, however, it seemed that Trump had won the feud.
NFL commissioner Roger Goodell reportedly sent a memo to teams, advising that the league believes that "everyone should stand for the national anthem," in an apparent victory for Trump. But by the evening, the tune had changed again — a joint statement from the NFL and NFL Players Association said that "there has been no change in the current policy regarding the anthem." It said,
The agenda will be a continuation of how to make progress on the important social issues that players have vocalized. Everyone who is part of our NFL community has a tremendous respect for our country, our flag, our anthem and our military, and we are coming together to deal with these issues in a civil and constructive way.
Current policy requires that players be present on the field, but the obligation to stand has so far been loosely enforced, if it's enforced at all.
Though the relighting of the feud with the NFL might have been the most exasperating thing to watch, it wasn't the only thing the interview touched on.
The president and a sympathetic Hannity also discussed immigration, Trump's tax plan — if only in broad terms — and the ongoing investigation into possible collusion with Russia to influence the 2016 election.
"Russia was an excuse used by the Democrats when they lost the election," Trump said to cheers from the crowd of supporters. He continued,
They sat in a room and they said, 'wow, we look bad.' The morning after. In fact, it's been written about, I guess, in various books, or a book. But they said, 'why did you lose the election? Ahh, it was Russia! Russia!' It wasn't Russia.
Multiple U.S. intelligence agencies are in agreement that Russia meddled in the 2016 election and that the intent was to benefit Trump.
Of course, surrounded by supporters who declared that other major news networks were "fake news" and talking to an interviewer who reportedly advised him on policy, Trump was unlikely to get challenged on any of it.
Which is fine. I'm sure that after his most recent comments, come Sunday Night Football we'll see challenges enough.