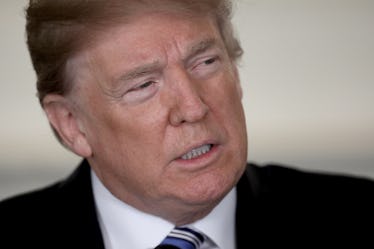 Donald Trump's Biggest Action On Gun Control Last Year Is So Upsetting Now
Win McNamee/Getty Images News/Getty Images
In the aftermath of a tragic school shooting, the question of gun control and how to prevent mass shootings is on everyone's mind. On Wednesday, Feb. 14, a former student allegedly unleashed rapid gunfire in a high school in Parkland, Florida, killing multiple people. The alleged shooter has been charged with 17 counts of premeditated murder. In the wake of the tragedy, President Donald Trump decided to focus his response to the school shooting on the mental health of the alleged shooter, calling him "mentally disturbed." But that tack is darkly ironic, seeing as Donald Trump's action on gun control in 2017 undid restrictions that would have prevented mentally ill people from purchasing guns.
On Feb. 28, 2017, Trump signed a bill that undid regulations that would have kept guns out of the hands of the mentally ill. The measure was an Obama-era rule, which required people who were receiving Social Security benefits for mental illnesses and people who were deemed unable to handle their own finances to be included in the database for gun purchase background checks, according to NBC News. The regulation was part of the Implementation of the NICS Improvement Amendments Act of 2007 and had come into effect on Dec. 19, 2016, shortly before Trump took office.
Aside from making it easier for people with mental illnesses to obtain firearms, that same month Trump's Justice Department removed 500,000 people labeled as "fugitives" from the background check system, meaning that individuals with an outstanding arrest warrant would be able to pass a background check, per New York Magazine.
The moves are especially ironic now that Trump is discussing mental health in the wake of a terrible mass shooting.
At around 3 p.m. ET on Wednesday afternoon, a suspect allegedly brought a AR-15 style firearm into Marjory Stoneman Douglas High School in Parkland, Florida and opened fire. Seventeen students and faculty were killed in the incident. Investigators said that the suspect allegedly pulled the fire alarm to draw more people out of classrooms in order to raise the number of casualties, per CNN.
In the wake of this horrific tragedy, Trump took to Twitter with a series of tweets, which expressed his message to Americans after the shooting. The first sent his condolences and prayers to the families of the victims and adding, "No child, teacher or anyone else should ever feel unsafe in an American school."
But in a follow-up tweet, the president brought up the issue of mental illness, referring to the alleged shooter as being "mentally disturbed."
Also, in a speech he gave live from the White House on Thursday, Feb. 15, Trump also raised the issue of mental illness while discussing the alleged shooter. During his speech he added, "We are committed to working with state and local leaders to help secure our schools, and tackle the difficult issue of mental health."
Trump also went a step further and complained about the fact that no one reported the alleged shooter on issues of mental health, stating in his tweet, "Must always report such instances to authorities, again and again" — despite the fact that reporting mental health issues to authorities is exactly what the measure he reversed would have done.
So ultimately, the focus of his response after the Florida shooting seems to be in contrast his actions on gun control so far. Trump made a point to say that the White House is committed to "[tackling] the difficult issue of mental health." But his actions so far haven't exactly done that.
Although the Florida shooting was the 18th school shooting in 2018 (which does not include the Las Vegas shooting that took place in 2017, killing 58 people and injuring nearly 500) the Trump administration has not inched towards a tighter gun control policy, or addressing mental illness and gun violence.
At the end of the day, the nation is facing yet more tragedy, and Trump's actions and words simply don't add up. We will have to see what happens next.