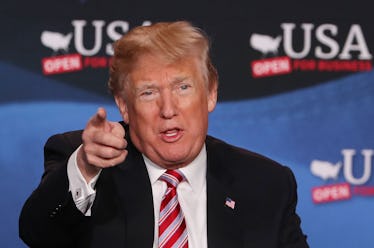 A Judge Shut Down Trump's Request For First Look At Files Seized From His Lawyer
Joe Raedle/Getty Images News/Getty Images
It looks like President Donald Trump's legal troubles are getting a little more, let's say, extensive. On April 9, the Federal Bureau of Investigation (FBI) raided the home and office of Trump's lawyer, Michael Cohen, and seized several documents. Now, despite arguing that he should get to see the files before the prosecution laid hands on them, Donald Trump won't get first look at files seized from Michael Cohen, according to The New York Times, and that can't be good... for him.
After the FBI raid on Cohen, the court convened Monday, April 16 under Judge Kimba M. Wood to decide what should be done with the files obtained during the raid. Trump's lawyer in this case, Joanna Hendon, filed a letter on Sunday, April 15 asking that Cohen's legal team get first-access to the obtained materials, according to The Daily Beast.
Similarly, Cohen also put in a request asking for a temporary restraining order that would stop prosecution from looking at the files in question until an independent third party, known as a "special master," looked over the materials to sort out what information is protected by attorney-client privilege. Cohen's legal team argued for the move because some of the seized materials may include "documents relating to communications with the president of the United States covered by the attorney-client privilege," according to an April 16 letter to the judge from Cohen's lawyer, Todd Harrison.
Despite Cohen and Trump both putting in requests, Judge Wood ruled that the prosecutors will get first access to the files seized during the FBI raid, according to The Daily Beast. Ten days after that, Cohen's defense team will get the materials. Wood came to her decision on the grounds that Cohen's attorneys had "miscited the law."
"It's not that you're not good people," Wood told Cohen's team, per The Daily Beast. "It's that you've miscited the law."
Wood has reportedly not yet made a decision on whether she will appoint a "special master" to look over the files. She did however say that "in terms of the perception of fairness, a special master might have a role here," according to The Guardian.
Regardless of whether an independent outside party will get a chance to determine what falls under attorney-client privilege, the prosecution team has stated their commitment to doing so on their own. According to The Guardian, the prosecution plans to have a "taint team," a group of outside prosecutors who are cut off from those investigating the case, to go through the materials. That way they have no ties at all to the case or the prosecutors and can be a third-party. Judge Wood appeared to be satisfied with that approach to navigating attorney-client privilege. She said in court,
I have faith in the Southern District U.S. Attorney's office that their integrity is unimpeachable. I think that a taint team is a viable option.
On April 9, The FBI raided Cohen's home, office, safety deposit box, and hotel room. Agents reportedly seized files regarding the legal battle between Cohen's client Donald Trump and pornographic film actress Stormy Daniels, who alleges she had an affair with Trump in 2006, among other topics. Trump has denied all the allegations made by Daniels.
On Jan. 12, The Wall Street Journal reported that Cohen had paid Daniels $130,000 to stay quiet about an alleged affair with the now-president. Though Cohen claimed he paid Daniels out of his own pocket, unbeknownst to Trump, in doing so he may have violated federal campaign laws.
In addition to Daniels, prosecution is also interested in Cohen's potential role in a $150,000 payoff that was allegedly given to ex-Playmate Karen McDougal who also claimed she had an affair with Trump. Both Daniels and McDougal claimed they had affairs with Trump and both have sued in order to be released from their non-disclosure agreements. Trump also denied that he ever had an affair with McDougal.
There is a lot up in the air right now, and a lot at stake for Cohen, and possibly Trump. Although we are not looking to throw attorney-client privilege in the trash— despite what Trump thinks — the fact that the prosecution will get a hold of the seized documents first, might allow for some transparency. And maybe we will finally get at the truth.