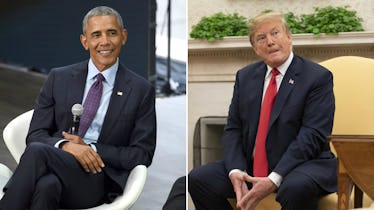 Trump's Approval Rating Among Women Compared To Obama's Is Pretty Telling
Jamie McCarthy/Getty Images Entertainment/Getty Images/Pool/Getty Images News/Getty Images
President Donald Trump's relationship with a lot of female constituents was marred even before his feet hit the Oval Office. His campaign was fraught with sexist behavior, colorful comments about women's looks, and a less-than-savory recording. That relationship doesn't seem to be mending as the presidency drags on, which begs looking at Donald Trump versus President Barack Obama's approval rate among women. I can't imagine they'll show much similarity.
Trump won 52 percent of the female vote among white women in the 2016 election, but overall he only received 41 percent of the female vote nationwide. On the other hand, Obama ran away with 56 percent of the entire female vote in 2008 against John McCain, and 55 percent in 2012 against Mitt Romney. Meanwhile after a year and a half in office, according to a July 7 Washington Post-Schar School poll, Trump's approval rating among women stands at 32 percent positive and 65 percent negative. Compare that to Obama, who had an approval rating of 61 percent among women during his first year in the White House, according to a Gallup poll.
It's not all that surprising that Trump's approval rating among women is about half what Obama's was. Aside from the multiple women who came forward during the 2016 campaign to accuse Trump of sexual misconduct — the official White House position remains that all these women are lying — and the infamous Access Hollywood tape which all unfolded before Trump's inauguration, the presidency hasn't treated women much better.
If Trump is at all concerned with the disparity in his approval rating among women versus what Obama's was during his first year in the Oval Office, he might want to look at some of the Obama-era policies and protections he's overturned while in office. For example, in the time Trump's been in office, he's rolled back Obama-era provisions of the Affordable Care Act (ACA) which gave women access to cost-free birth control. In addition, the Trump administration also paused an equal pay rule passed by the Obama administration which required large companies to report what they pay workers, broken down by race and gender.
In more recent months, following the retirement of Justice Anthony Kennedy from the Supreme Court in late June, Trump saw a chance to try and push a SCOTUS bench that would overturn Roe v. Wade, the landmark 1973 Supreme Court case which acknowledged the right to access abortion care. The president tapped U.S. Court of Appeals for the District of Columbia Brett Judge Kavanaugh to fill Justice Kennedy's place on the Supreme Court, and although Trump's pick still needs to be approved by the Senate, his choice doesn't say that Trump's working towards changing his stances on women's issues. Last year, Kavanaugh sided with the Trump administration's refusal to allow an undocumented teen in Texas to get an abortion, even though a lower court had already approved it. On top of that, in 2015, Kavanaugh dissented in a case that involved requiring employers to provide birth control coverage to their employees, siding with employers opposed to covering birth control on the basis of religious beliefs.
If Trump is at all worried about his approval numbers with women, he might want to revisit some of those Obama-era policies. Judging by the polls, it seemed to have worked back then.