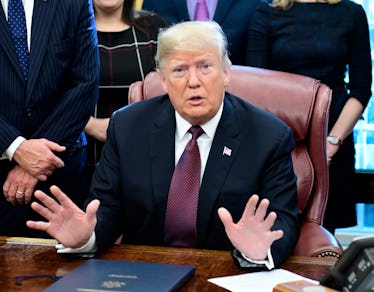 Trump Reportedly Told Mueller He Doesn't Know Much About The Trump Tower Meeting
Pool/Getty Images News/Getty Images
For more than a year, the question on everyone's mind has been: Did Donald Trump know of the infamous 2016 Trump Tower meeting between Russian officials and members of his campaign? It's also a question that FBI Special Counsel Robert Mueller reportedly asked Trump as a part of his investigation into Russian meddling in the 2016 presidential election. On Wednesday, Nov. 28, that answer was shared: Donald Trump told Robert Mueller he didn't know about the Trump Tower meeting, according to CNN. Elite Daily reached out to the White House and the special counsel's office for further comment on the matter, but did not immediately receive a reply.
Per CNN, President Trump reportedly gave written responses to Mueller in which he said he was unaware of the 2016 Trump Tower meeting in which Donald Trump Jr. and several others close to Trump met with a Russian lawyer who offered damaging information up about opponent Hillary Clinton. According to CNN, Trump said he'd answered the questions to the best of his recollection. He also reportedly said that Roger Stone (who was once an informal adviser to him) did not tell him about an impending leak of Democratic emails from WikiLeaks, which published a slew of emails including those of Hillary Clinton ahead of the 2016 presidential election. Stone himself has denied knowing of the email leak. The White House and the special counsel's office did not immediately respond to Elite Daily's request for additional comment.
What Trump knew about the 2016 meeting — and when — could be crucial. In July of 2016, Trump Jr., Jared Kushner, and then-campaign chairman Paul Manafort met with Kremlin-associated lawyer Natalia Veselnitskaya in Trump Tower in New York City. While statements from Trump and Trump Jr. originally said that the meeting was to discuss adoptions of Russian children, it later emerged that Trump Jr. had been offered damaging information about Clinton, as he later confirmed via Twitter. While Trump has repeatedly denied knowing about the meeting in advance, if his assertions prove to be false, Trump could potentially face prosecution. Legal experts previously told The Washington Post that in that case Trump "could be considered to have been involved in a conspiracy to violate legal prohibitions against soliciting something of value from a foreign actor."
Trump's responses align with previous statements he's made about his knowledge of the meeting and the WikiLeaks release. In April 2017, he explicitly denied knowing of the latter, telling the Associated Press in an interview:
When WikiLeaks came out ... never heard of WikiLeaks, never heard of it. When WikiLeaks came out, all I was just saying is, 'Well, look at all this information here, this is pretty good stuff.'
The New York Times reported on Nov. 27 that Stone, a Trump campaign adviser, had sought out information about what the WikiLeaks email dump might contain. Stone has also denied knowing about the WikiLeaks release in advance, or talking to the president about it. He recently told CNN:
I never discussed any of this with Donald Trump. It's one of the questions that Mr. Mueller wants the President to answer — one of the written questions. I'm highly confident that his answer will be that he knew nothing about it. We just never discussed it.
After reaching a plea deal with Mueller on unrelated charges back in September, Manafort was expected to serve as a key witness who could perhaps shed crucial information on Trump's potential ties to Russia. But in a federal court filing on Monday, Nov. 26, Mueller claimed that the former chairman had lied to investigators, which seemingly undercuts his credibility. Elite Daily reached out to representatives of Manafort for comment, but did not hear back. The special counsel's office declined to comment to Elite Daily on the subject.
Either way, it hasn't seemed to bother President Trump. He routinely criticizes Mueller's investigation, calling it a "witch hunt" and slamming the investigators involved. Just days ago, on Nov. 27, he called Mueller a "conflicted prosecutor gone rogue."
If anything, all this probing has only made him more heated. We'll see what happens next.