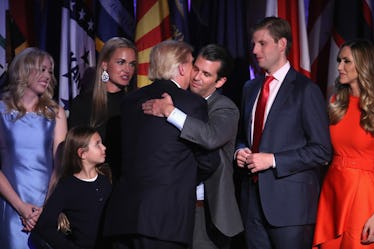 These Donald Trump Quotes About His Son Don Jr. Are So Illuminating
Mark Wilson/Getty Images News/Getty Images
It's no secret that the president plays favorites when it comes to his inner circle. And while the family apparently has come to grips with Ivanka as the favorite child, Trump has a clear bond with his eldest son, Donald Trump Jr. These Donald Trump quotes about Don Jr. tell you everything you need (and don't need) to know about their father-son relationship.
Trump's eldest son went to the University of Pennsylvania, following in his father's footsteps. He reportedly spent a period of time after college living out of the back of a truck in Colorado, during which time he hunted, skied, and worked as a bartender, according to Vanity Fair. After that, he went to work for his father's real estate empire in 2001. He married the model Vanessa Haydon in 2005 (the couple, which has five children together, recently filed for divorce). Currently, he works as the executive vice president of the Trump Organization, alongside his brother Eric, while his dad is in office. Over the years, Donald Trump has said a lot of things about his eldest son — flattering or not.
On the praising side of Trump's comments, in a tweet from May 2012, Trump says Don Jr. is "an excellent speaker." In February 2016, Trump showered the praise on both of his adult sons, calling them "great kids" during their appearance on Fox & Friends. In July 2017, after it was reported that Trump Jr. had met with Russian nationals at Trump Tower the summer prior to the election, the president applauded his eldest son for his honesty about the interaction. "My son is a high-quality person and I applaud his transparency," the president said via a statement read by White House Press Secretary Sarah Huckabee Sanders, according to Reuters.
The president also tweeted to promote his son's appearance on Sean Hannity's show the same month. "[Donald] is a great person who loves our country!" the elder Trump wrote of his son.
Following the Hannity appearance, Trump again heaped praise on his offspring. "My son Donald did a good job last night," Trump tweeted. "He was open, transparent and innocent. This is the greatest Witch Hunt in political history. Sad!"
Don Jr. said that he received a lot of the parental attention he needed as a child from his grandfather, according to an interview he did with New York magazine for a December 2004 article. But his dad apparently didn't seem to think that spending time with the kids was all that important. In an interview for the piece, Donald Trump Sr. told the magazine, "The hardest thing for me about raising kids has been finding the time. I know friends who leave their business so they can spend more time with their children, and I say, 'Gimme a break!' My children could not love me more if I spent fifteen times more time with them."
(In the same interview, when asked if there was any favoritism on the father's part, Trump Sr. responded, "Come on! Daddy's little girl!")
According to an excerpt by Michael Wolff from his book Fire And Fury: Inside The Trump White House, Trump doesn't exactly think his sons are the brightest stars in the galaxy. (It's worth noting, though, that Wolff's salacious book has made lots of eye-popping claims, and Trump said the book was "full of lies." So take it with a grain of salt.)
"Their father took some regular pleasure in pointing out that [Don Jr. and Eric] were in the back of the room when God was handing out brains," reads Wolff's excerpt, per Spin. Sadly, Don Jr. and Eric aren't the only ones to be belittled by their dad; Trump apparently also said that he was less proud of Tiffany than of the others. (Oof. Seriously, how do you even recover from that?)
As for what the eldest son has said about his father? Well, that's a whole separate issue. (We'll give you a preview: Little Don Jr. reportedly ranted to his father at age 12 saying that his dad didn't love them and only loved money, per Vanity Fair. Oh, and on a 2007 radio show interview, Trump Jr. claimed he had a "bigger package than his dad." Yep. That's what we're working with.)