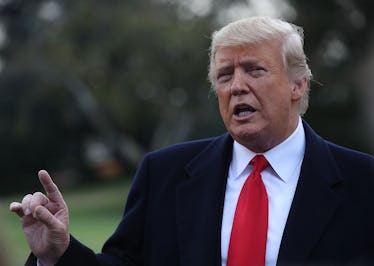 Trump Might've Just Indicated That He Booted Jeff Sessions To Kill The Russia Probe
Mark Wilson/Getty Images News/Getty Images
It's been nine days since former Attorney General Jeff Sessions resigned from his post and was replaced by U.S. attorney Matthew Whitaker — and now, more details are (finally) emerging about the situation. Though Sessions and the president had bumped heads for various reasons over the past year, it ultimately looks like Donald Trump may have hired Matthew Whitaker to kill the Russia probe, according to a recent interview. Elite Daily reached out to the White House for further comment on the remarks and whether Trump intends for Whitaker to hamper the Russia investigation, but did not hear back by the time of publication.
Speaking to conservative website The Daily Caller on Wednesday, Nov. 14, President Trump responded to a question about his decision to appoint Whitaker, telling the outlet that "Whitaker is a very respected man." Then he seemingly suggested that he selected Whitaker to hinder the Russia investigation, led by FBI Special Counsel Robert Mueller, into whether collusion occurred between Trump's 2016 campaign and Russia in the 2016 presidential election. He continued, "I knew him only as he pertained, you know, as he was with Jeff Sessions. And, as far as I'm concerned, this is an investigation that should have never been brought." He added,
It's something that should have never been brought. It's an illegal investigation. And you know, it's very interesting because when you talk about not Senate confirmed, well, Mueller's not Senate confirmed.
Although it's still unclear whether he hired Whitaker to derail the Russia probe, it's not that far-fetched of an idea. The ousting of Sessions, for starters, is key. The former attorney general had received unrelenting criticism from Trump for recusing himself from the Russia investigation back in 2017, ultimately ending with Sessions' Nov. 7 resignation. Elite Daily reached out to the White House and the Department of Justice (DOJ) for comment on Sessions' resignation at the time, but did not receive a reply. In his resignation letter, Sessions wrote that he resigned at Trump's request, and just hours later, Trump announced on Twitter that he'd appointed Whitaker, described as a Trump loyalist who has previously called for limits on the investigation. With Whitaker now in charge, there could be serious implications for Mueller's probe. The DOJ did not reply to Elite Daily's request for comment on the subject.
The new comments also seem reminiscent of ones Trump made in 2017 when he fired then-FBI Director James Comey, who had been investigating potential collusion between the Trump campaign and Russian officials. In an interview with NBC News in May 2017, the president admitted that the "Russia thing" factored into his decision to cut ties with Comey, saying, per The Guardian:
And, in fact, when I decided to just do it, I said to myself, I said: 'You know, this Russia thing with Trump and Russia is a made up story, it's an excuse by the Democrats for having lost an election that they should've won.'
He later doubled back on the comments, however, tweeting that he never fired Comey because of the investigation.
"Not that it matters but I never fired James Comey because of Russia!" he declared. "The Corrupt Mainstream Media loves to keep pushing that narrative, but they know it is not true!" Elite Daily reached out to the White House for further comment on both his statements to NBC News and his tweet, but did not immediately receive a reply.
Nonetheless, the firing reportedly prompted an investigation from Mueller into whether Trump attempted to obstruct justice, which has yet to be determined. That said, don't be surprised if this latest situation meets a similar fate.