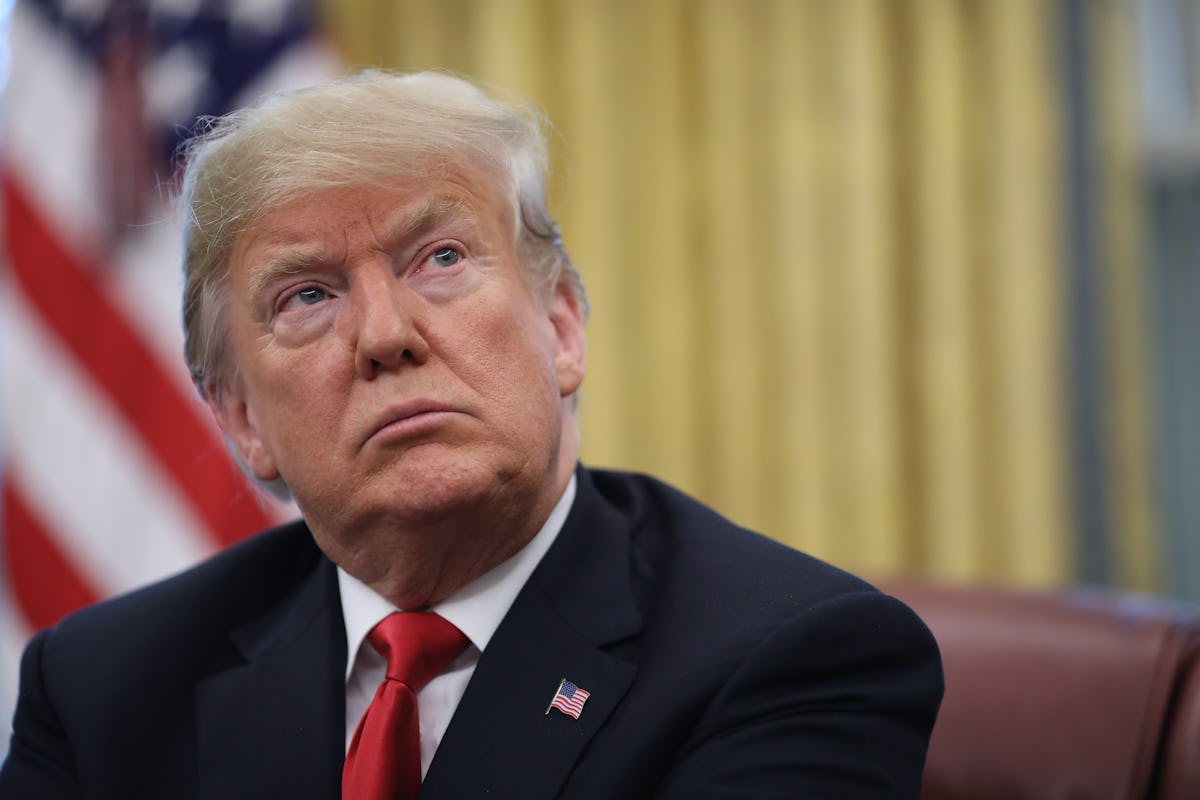 Donald Trump Made Fun Of The Me Too Movement At A Rally, So Here We Go Again
Win McNamee/Getty Images News/Getty Images
President Donald Trump has been using his campaign rallies to take some quick jabs lately, and the pattern continued on Wednesday, Oct. 10. During a rally in Pennsylvania, President Donald Trump made fun of the #MeToo movement, so here we go again. It's really becoming a little too familiar. Elite Daily reached out to the White House for additional comment, but did not immediately hear back.
At the rally in Erie, Pennsylvania, Trump began talking about how he won Pennsylvania in the 2016 presidential election — despite Republicans not being able to do so for years — when he got sidetracked a little over not being able to use the phrase "the woman that got away" under what he called the "rules of #MeToo," according to CNN. He said to the crowd on Oct. 10,
Pennsylvania hasn't been won for many years by Republicans, but every Republican thinks they're going to win Pennsylvania. I used an expression — you know, there's an expression but under the rules of Me Too I'm not allowed to use that expression anymore. I can't do it. It's the person that got away.
Trump added that it was a "little different" in the "old days." The president then went on to say that he would use the phrase if it weren't for the "people up there," he pointed to the press. Ultimately, he decided to just "change the expression" and carry on, according to CNN. Trump said,
See, in the old days, it was a little different. I would do it, except for these people up there. They would say, did you hear what President Trump said? So there is an expression, but we'll change the expression: Pennsylvania was always the person who got away, that's pretty good, right, the person that got away?
Except he didn't change the expression, really. "The person that got away," is the same thing as "the one who got away," which is a very common phrase used pretty much all the time. So, it's kind of unclear what Trump actually meant, or why there was a need for him to bring it up at all.
As you can tell by his comments on the #MeToo movement in Pennsylvania, the effect the movement has on men seems important to him. On Tuesday Oct. 2, Trump leaned on a similar rhetoric when reporters caught him on the White House lawn on his way to a rally in Mississippi. Trump said,
It is a very scary time for young men in America, when you can be guilty of something you may not be guilty of. It's a very scary situation where you're guilty until proven innocent. That is a very, very difficult standard.
Elite Daily reached out to the White House for additional comment on the statement, but did not immediately hear back.
The pattern continued later that day during the Oct. 2 rally. First, Trump mocked Christine Blasey Ford, the woman who accused Brett Kavanaugh of attempting to sexually assault her while the two were in high school — Kavanaugh denied the allegation, calling it "completely false." Representatives for Kavanaugh did not reply to Elite Daily's request for comment at the time. Following that, the president asked the crowd to consider the men. He said,
Think of your sons. Think of your husbands. A man's life is in tatters. A man's life is shattered. His wife is shattered. They want to destroy people. These are really evil people.
Elite Daily reached out to the White House for additional comment on the statement, but did not immediately hear back.
Of course, President Trump might have his own stake in this game. The president, for his part, has been accused of sexual misconduct by more than a dozen women, with allegations ranging from harassment to assault. The president has denied all the claims, and the official White House position is that his accusers are lying. The White House did not respond to Elite Daily's request for additional comment.
Given the pattern, it's not surprising that he took the opportunity to comment on #MeToo. Just add it to the list.