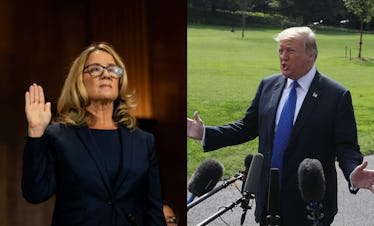 This Video Of President Donald Trump Mocking Christine Blasey Ford Is Not OK
Pool/Getty Images News/Getty Images/Mark Wilson/Getty Images News/Getty Images
Christine Blasey Ford, the woman who came forward with sexual misconduct allegations against potential Supreme Court Judge Brett Kavanaugh (which he denies), gave her testimony before the Senate Judiciary Committee on Thursday, Sept. 27. Before the committee, Ford delivered and emotional retelling of what happened to her on the night of the alleged assault, and on Tuesday, Oct. 2, President Donald Trump mocked her for it. This video of President Donald Trump mocking Christine Blasey Ford is not at all OK.
On Sept. 14, Ford came forward and claimed that Kavanaugh attempted to sexually assault her at a party while the two were both in high school in the 1980s. Kavanaugh has denied the allegations calling them "completely false." Representatives for Kavanaugh did not reply to Elite Daily's request for comment. While many found Ford's testimony before the Senate Judiciary Committee to be brave, emotional, and heartbreaking, President Donald Trump took a different path as he addressed the crowd during a campaign rally in Southaven, Mississippi on Tuesday, Oct. 2. According to CNN, the president openly mocked Ford for not remembering certain details of her alleged assault and her inability to answer certain questions. Elite Daily reached out to the White House for comment on Trump's rally statements, but did not immediately hear back. Trump said mimicking Ford's testimony,
I had one beer. Well, do you think it was — nope, it was one beer. How did you get home? I don't remember. How'd you get there? I don't remember. Where is the place? I don't remember. How many years ago was it? I don't know. I don't know. I don't know. What neighborhood was it in? I don't know. Where's the house? I don't know. Upstairs, downstairs — where was it? I don't know — but I had one beer. That's the only thing I remember.
During that same rally, Trump also asked the crowd to consider the men, and how Kavanaugh's life and family is now "in tatters." Trump told the crowd on Tuesday.
Think of your sons. Think of your husbands. A man's life is in tatters. A man's life is shattered. His wife is shattered. They want to destroy people. These are really evil people.
The "think of the men" rhetoric is something that Trump really seems to be committed to. Before leaving for Mississippi rally on Tuesday, reporters caught Trump on the White House South Lawn, where the president made very similar comments in regards to the effect sexual assault accusations have on men, according to The Daily Beast. Trump said,
It is a very scary time for young men in America, when you can be guilty of something you may not be guilty of. It's a very scary situation where you're guilty until proven innocent. That is a very, very difficult standard.
During a press conference on Sept. 26, though, President Trump did admit that his views on allegations of sexual misconduct are colored by the fact that he's been accused of sexual misconduct by multiple women, all of which Trump has repeatedly denied, saying he doesn't even know any of the women. Elite Daily reached out to the White House for additional comment on the allegations against Trump but did not hear back. The official White House position is that all the women are lying. On Sept. 26, Trump said,
It does impact my opinion. You know why? Because I've had a lot of false charges made against me. I'm a very famous person, unfortunately. I've been a famous person for a long time. But I've had a lot of false charges made against me, really false charges. I know friends that have had false charges. People want fame. They want money. They want whatever. So when I see it, I view it differently than somebody sitting home watching television where they say, Oh, Judge Kavanaugh, this or that.
Whether or not Trump is being influenced by his own history with accusations of sexual misconduct, he definitely shouldn't have let that push him towards openly mocking Ford or any other women who come forward.