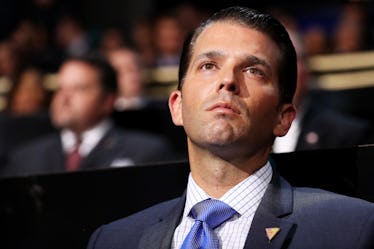 Donald Trump Jr. Tweeted About Justice Kennedy's Resignation & It's So Cringeworthy
John Moore/Getty Images News/Getty Images
Is everybody out there in the Twitterverse still cringing or what? Some of the takes regarding Justice Anthony Kennedy's retirement have just been utterly embarrassing — including Donald Trump Jr.'s. I mean, Donald Trump Jr.'s tweet about Justice Kennedy's retirement is painfully embarrassing, and if you haven't seen it, you'll probably agree once you do.
Kennedy announced his retirement on June 27 after serving on the Supreme Court since 1988 — a decision he said stemmed from his desire to spend more time with his family. Although his resignation won't be official until July 31, many people have already expressed their concerns of who President Donald Trump will nominate to fill Kennedy's seat — especially considering the justice has often served as the swing vote on various cases.
But apparently the day can't come any faster for Trump Jr. because he seemed pretty ecstatic about the announcement on Twitter — except his comments are like, next-level, I-can't-stop-cringing kind of bothersome.
On the day of the announcement, Trump posted:
OMG! Just when you thought this week couldn't get more lit... I give you Anthony Kennedy's retirement from #SCOTUS
This is like when your dad barely knows slang, but tries to use it anyway to impress you or your friends and the message just falls flat. All this moment is missing is a record scratch, TBH.
Even his father had a rather surprising comment about Kennedy's resignation, and it's probably not what you'd expect to see from him, either. Rather than deflecting attention onto the "fake news media" or making things about himself, as he often does, Trump kept things simple and graceful. When speaking about Kennedy, the president said, "He is a man that I've known for a long time, and a man that I've respected for a long time, who's been a great justice of the Supreme Court."
Trump also stated that Kennedy had "tremendous vision and tremendous heart," saying,
He's displayed tremendous vision and tremendous heart. But he will be retiring. And we will begin our search for a new justice of the United States Supreme Court that will begin immediately. Hopefully we are going to pick somebody who will be as outstanding. I just want to thank Justice Kennedy for the years of tremendous service. He's a very spectacular man. I know that he will be around hopefully for a long time to advise, and I believe he's going to be teaching and doing other things. So thank you to Justice Kennedy.
Then again, Trump's tasteful comments could be because Kennedy's resignation is a dream scenario to him. Trump will have the opportunity to fill a second spot in the Supreme Court, following his nomination of Neil Gorsuch in January 2017. Considering the president's strong conservative beliefs — including his goal of overturning Roe v. Wade — who Trump selects as a nomination has already been a major concern, specifically from pro-choice advocates.
Ilyse Hogue, the president of NARAL Pro-Choice America, boldly expressed her fears of Trump's potential selection in a statement, saying:
... Our country faces a moment of deep crisis—a crisis of rights, of values, and of leadership. The deeply-divided decisions from the Supreme Court this week are a clear warning that our most cherished values are in jeopardy, and now hang in the balance. Women will not go back to the days when abortion was illegal in this country.
Perhaps remarks like Hogue's got to Trump Jr. and him rattled enough to send his tweet, or maybe he's just truly excited that Kennedy is on his way out. But one thing is clearer than ever: he really just could've left this tweet in his drafts.