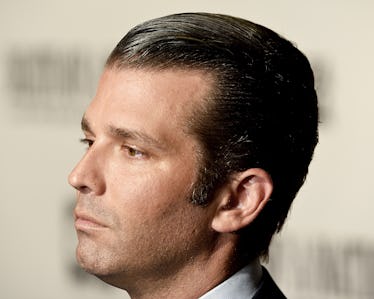 Donald Trump Jr. Wasn't Happy About That Anderson Cooper Clapback To Him
Shannon Finney/Getty Images Entertainment/Getty Images
Whew, things are getting pretty heated between Donald Trump Jr. and Anderson Cooper. The two have been hurling nothing but zingers at each other in the past few days, starting with a tweet Trump Jr. sent out featuring a photo of Cooper covering a hurricane over the weekend of Sept. 14. While I thought Cooper's most recent clapback was enough to shut this drama down for good, Donald Trump's response to Anderson Cooper's segment about him shows that it could go on for a while.
If you somehow missed it, the two have been engaged in a back-and-forth since Sept. 16, when Trump Jr. tweeted out a photo of Cooper standing in waist-deep water during a hurricane while a cameraman stood nearby on dry ground. In the caption, Trump Jr. criticized Cooper's network, CNN, for supposedly "lying" about his father Donald Trump Sr. to make him look bad. The younger Trump tweeted out the photo while Hurricane Florence ripped through the Carolinas region over the weekend, and many of those who retweeted the photo asserted it was from Florence and that Cooper was attempting to make the disaster look worse than it was. Needless to say, Trump Jr.'s tweet prompted a serious clapback from Cooper himself, in which he pointed out that the photo was actually from 2008's Hurricane Ike, along with the full clip which showed both the actual depth of the water and the extent of Cooper's coverage.
Now, in a tweet shared to his page on Sept. 18, Trump Jr. appears to be backpedaling on his tweet and denying it was meant to be associated with Florence. He wrote:
Not surprised [Anderson Cooper] lied about me on @CNN last night. Par for the course. I never said the pic of him was from Florence. When I tweeted out the picture of [Cooper] it was with a link to an article about CNN's dwindling ratings. Nothing to do with Florence.
OK, so Trump Jr.'s initial tweet did link to an article about CNN's ratings, but the post also aligned with his and his father's continuous attacks on the media — specifically CNN — which could be why Cooper hit back at him to begin with.
Cooper's rebuttal came on Monday, Sept. 17, during an episode of his show, Anderson Cooper 360, in which he called out Trump Jr. and his retweeters hard. "The idea I am kneeling in water to make it look deep is frankly, idiotic," he said. He added:
I debated tonight whether I should even respond tonight to the president's son. I know he considers himself an outdoorsman, and pays a lot of money to be led to wildlife in Africa which he then kills, but I'm not sure he's ever actually been to a hurricane or flood. I didn't see him down in North Carolina the last few days, helping out and lending a hand. But I'm sure he busy was doing something important, besides just tweeting lies. Anyway.
Cooper concluded: "I don't expect the president's son to ever admit that he was wrong or one of the president's advisers or frankly anyone else who's retweeted any of these pictures. But I at least thought that they and you should know the truth." IDK about you, but this gave me secondhand embarrassment.
With such solid clapbacks from Trump Jr. and Cooper, the back-and-forth between these two might not cease for a while. We'll just have to wait and see how this one continues to unfold.