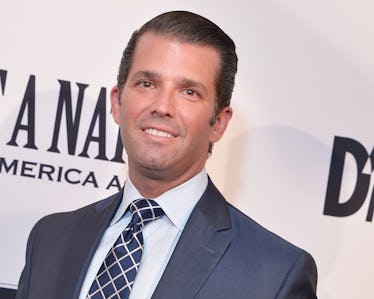 Anderson Cooper Is Not Here For Donald Trump Jr.'s Tweet About Him
Shannon Finney/Getty Images Entertainment/Getty Images
Donald Trump Jr. has recently been entertaining himself on Twitter by attacking the press, which he has accused of treating his father, President Donald Trump, unfairly. But it looks like this time he picked the wrong target because Anderson Cooper just came for the younger Trump and he brought the receipts. Seriously, Anderson Cooper's clapback at Donald Trump Jr.'s tweet about him is some must-see TV.
On the morning of Sunday, Sept. 16, the younger Trump tweeted out a photo of Cooper filming a segment, which showed Cooper waist-deep in water while a few feet away a film crew stood on dry ground. In the caption, Trump Jr. attacked CNN, where Cooper is an anchor, accusing the network of lying in order to make his father look bad. He wrote,
It's a shame that CNN's ratings are down 41%. What's worse is there's a simple solution that they refuse to accept. Stop Lying to try to make @realDonaldTrump look bad
Shortly after, others retweeted Trump Jr.'s message, accusing Cooper of faking the depth of floodwaters from Hurricane Florence. The storm spent the weekend of Sept. 14 pounding the Carolinas and has, as of Sept. 18, resulted in the deaths of at least 32 people.
Well, Cooper was having none of it. On the Sept. 17 episode of his show, Anderson Cooper 360, Cooper shot back, calling the claims "idiotic."
"I usually let conspiracy theorists go unanswered," Cooper began. And it only got better from there.
"The idea I am kneeling in water to make it look deep is frankly, idiotic," he said. Cooper proceeded to tear down the suggestion that he was faking how deep the water was by sitting or kneeling, as well as, oh, basically everything else about the tweets, including pointing out that the shot wasn't even from coverage of Hurricane Florence, but rather, Hurricane Ike in Texas in 2008, where the water had risen so rapidly that there had been no time for many to evacuate. He went on to point out that — shocker — his camera crew was intentionally on a piece of higher ground, because "you can't put camera equipment in deep water. You have to keep the cameras dry."
And because what's a clapback without the receipts, Cooper went ahead and showed the whole clip. In it, Cooper can be seen struggling through the deep water and pointing out the water line on a nearby telephone pole to demonstrate that the water had been even higher previously. "The water level was about a foot and a half higher," he says in the clip.
"I debated tonight whether I should even respond tonight to the president's son," Cooper added, following up with some choice words for Trump Jr. He said,
I know he considers himself an outdoorsman, and pays a lot of money to be led to wildlife in Africa which he then kills, but I'm not sure he's ever actually been to a hurricane or flood. I didn't see him down in North Carolina the last few days, helping out and lending a hand. But I'm sure he busy was doing something important, besides just tweeting lies. Anyway.
Oof.
For his part, Trump Jr. tweeted out his own rebuttal on the morning of Sept. 18, denying that he had ever claimed that the photo was from Florence, and saying that, rather, he had used it to criticize CNN's ratings. "I never said the pic of him was from Florence," he wrote. "When I tweeted out the picture of @AC360 it was with a link to an article about CNN's dwindling ratings. Nothing to do with Florence."
With as many feuds as the Trumps have with the media, this might be one I'm eager to see continue. At the very least, we're guaranteed more fantastic shutdowns from it.