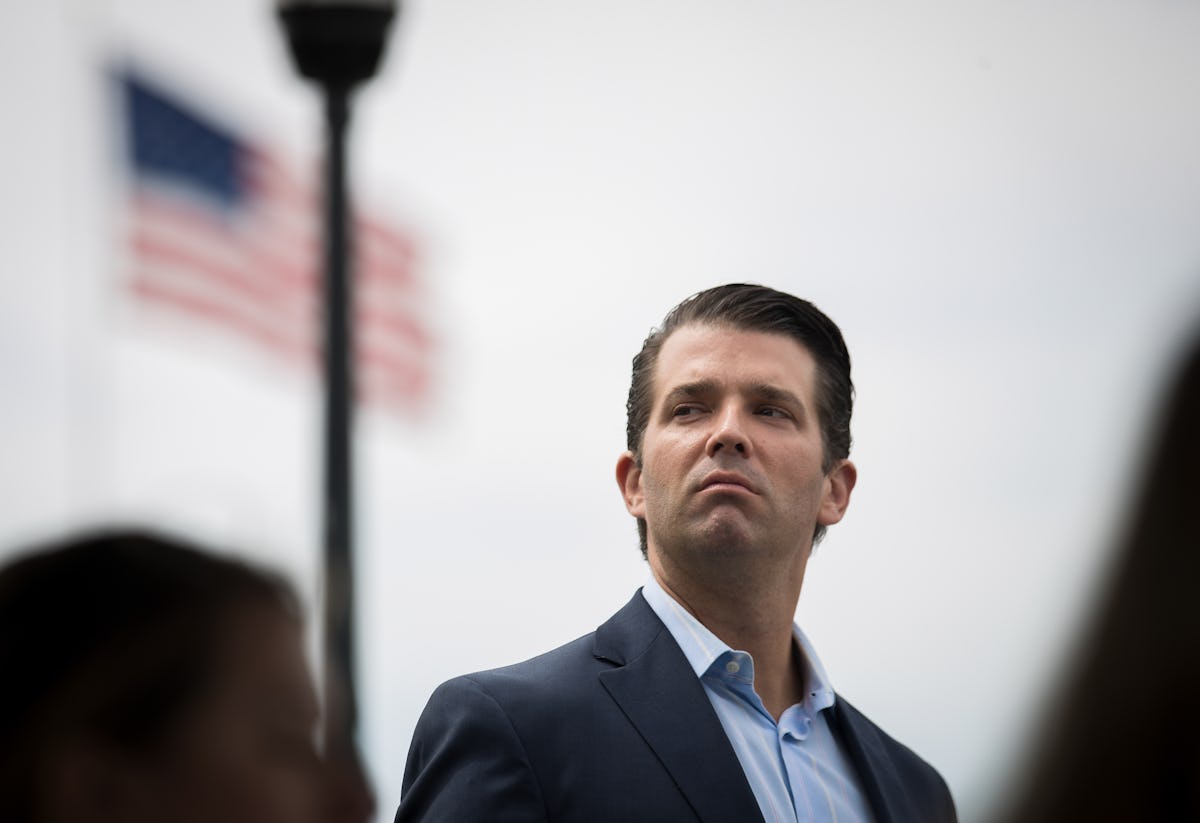 Donald Trump Jr.'s Fourth Of July Instagram With Kimberly Guilfoyle Means They're Serious
Drew Angerer/Getty Images News/Getty Images
There is nothing more intimidating than meeting your new beau's parents... especially when they just so happen to be the President and First Lady of the United States and you are meeting them at the White House on the Fourth of July. Donald Trump Jr.'s Fourth of July Instagram with Kimberly Guilfoyle showed that he's getting very serious with his new girlfriend, who is a Fox News host, all while embroiled in messy divorce proceedings with his ex, Vanessa Trump.
The new photos reveal Donald Trump Jr. brought his new girlfriend Kimberly Guilfoyle along with him to celebrate the Fourth of July with his family at the White House. Reports about Trump Jr. dating Guilfoyle began a little less than two months ago, shortly after it was announced that Trump Jr.'s wife of about 13 years Vanessa Trump was filing for divorce. Since then, the new couple have posted photos with one another several times on Instagram to confirm the relationship.
The new Instagram shots of the couple show Donald Trump Jr. introducing Kimberly Guilfoyle to his father in the Oval Office. Trump Jr. did not explicitly mention the meet-the-parents moment in his caption, opting instead to focus on the patriotic holiday:
A very Happy 4th of July to everyone! It was great meeting all the veterans and active duty service members visiting the White House! Today is America's birthday, and we are making it GREAT again! #fourthofjuly #weekend #usa
Kimberly Guilfoyle also posted her own photo of herself and Donald Trump Jr. posing for the camera at the White House, writing that she had an incredible afternoon celebrating the Fourth of July there:
An incredible afternoon at the White House! Thankful and proud to be an American! God bless all our troops & God keep our nation safe. Happy Independence Day 🇺🇸❤️💃🏾@donaldjtrumpjr
The photos of Donald Trump Jr. and his girlfriend Kimberly Guilfoyle at the White House were on the more tame side of the multiple posts that Trump Jr. uploaded to his Instagram on the Fourth of July. The famously social media-happy businessman surrounded the photos of himself and his girlfriend with a ton of explosive, red-white-and-blue memes, including a photoshopped photo of his father holding a bald eagle and machine gun, and a cartoon drawing of his father mimicking the "Salt Bae" meme and referring to it as "Freedom Bae."
Donald Trump Jr. has reportedly been dating Kimberly Guilfoyle for about two months now. In March, Trump Jr.'s wife Vanessa Trump (née Haydon) filed for divorce. The details of the ongoing divorce are being kept private, and although it was initially believed to be uncontested, it was later revealed that Trump Jr. is contesting Vanessa's divorce filing. Trump Jr. and Vanessa Trump began dating in 2003 when Vanessa Haydon was working as a model. They got married in 2005, and went on to have five children together. The announcement of their separation and divorce occurred right around the same time that pop singer Aubrey O'Day admitted Donald Trump Jr. allegedly had an affair with her in 2012 after she met him on Celebrity Apprentice.
Though still in the thick of his divorce, Donald Trump Jr. began a relationship with Kimberly Guilfoyle in May. Guilfoyle has made a name for herself at Fox News, using her background as an attorney and legal analyst to host the political news talk show The Five, which has aired on the network for seven years. Back in 2016 after the election, Guilfoyle was even reportedly considered as one of Donald Trump's top picks to serve as the White House Press Secretary, but the position ultimately went to Sean Spicer. But as these new photos with Donald Trump Jr. show, she still made it to the White House.