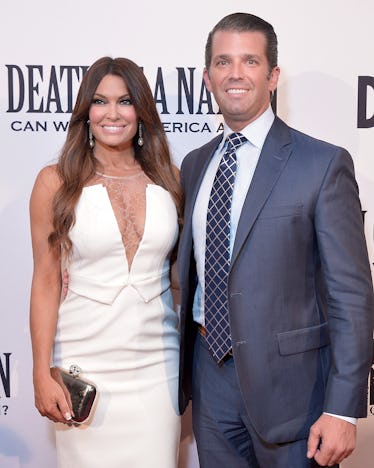 A Montana Restaurant Nixed Donald Trump Jr. & Kimberly Guilfoyle's Campaign Rally
Shannon Finney/Getty Images Entertainment/Getty Images
Anyone know of a good venue to hold a rally in Montana? Asking for Donald Trump Jr. and Kimberly Guilfoyle. If you haven't heard, Donald Trump Jr. and Kimberly Guilfoyle's campaign rally for a GOP candidate got canceled after the restaurant where it was scheduled had a sudden change of heart and declined to host the event. It looks like they might be in need of a new hosting spot ASAP.
According to Newsweek, the pair was scheduled to host the rally on Tuesday, Sept. 25 for Republican Matt Rosendale at Midtown Tavern in Bozeman, Montana. They were reportedly helping Rosendale generate some buzz ahead of the upcoming midterm elections where he'll challenge Sen. Jon Tester (D-Montana) for his seat in the U.S. Senate. But shortly after the GOP candidate announced the news on Sept. 18, the Bozeman Daily Chronicle reported that the restaurant's manager, Jeff Wilcox, said they'd decided to back out of hosting the event, calling it a "miscommunication." Apparently, they weren't aware of the nature of the event and decided to stay politically neutral once they found out.
"We definitely don't want to take political sides. That's never our intention," Wilcox explained to the paper, adding that he didn't know the event had even been booked until after the announcement. "We just try to stay politically neutral." He added, "That's just not who we are ... We're a restaurant."
Sources at the Midtown Tavern reportedly also told Montana ABC Fox that the restaurant might not be big enough to host such a large event, or have the resources to do so. As of the afternoon on Sept. 19, there was no event listed for the date of Sept. 25 on the restaurant's Facebook page.
Though it's unclear where the event will be moved to, Rosendale's campaign later released a statement to People saying the search for a new venue was already underway. "We've had over 200 people RSVP for the event in less than four hours and we're looking for a new venue to accommodate the unprecedented demand for the campaign rally with Trump Jr. and Kimberly Guilfoyle," the statement read. The campaign did not immediately respond to Elite Daily's request for comment.
If any of this sounds even vaguely familiar, that's because it is, although the circumstances have been very different. Back in June, White House Press Secretary Sarah Sanders and her family were booted from a restaurant earlier this year as a protest over some of the Trump administration's more controversial policies. According to multiple reports, Sanders and seven others were dining at the Virginia farm-to-table eatery Red Hen back in June when the restaurant owner, Stephanie Wilkinson, approached them and asked them to leave. Apparently, Wilkinson isn't a fan of Sanders' willingness to work in what she calls an "inhumane and unethical" administration.
Sanders later confirmed the incident on Twitter, writing:
Last night I was told by the owner of Red Hen in Lexington, VA to leave because I work for @POTUS and I politely left. Her actions say far more about her than about me. I always do my best to treat people, including those I disagree with, respectfully and will continue to do so.
At least now that Trump Jr. and his lady have been ousted from their venue, it shouldn't seem like Sanders was the only one with ties to the president to get singled out and booted out of a restaurant. Hey, there's a bright side in all this drama after all.