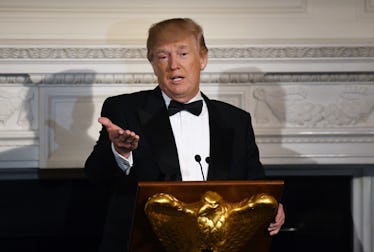 Donald Trump Roasted The Members Of His White House & He Did Not Hold Back
Pool/Getty Images News/Getty Images
Remember when Comedy Central aired the roast of Donald Trump? It was back in the simpler times of 2011 when Trump was first toying with the idea of running for president. Well, now it's 2018, and President Donald Trump got his turn to say the punchlines at an annual Washington, D.C. event called the Gridiron Club Dinner. The president took advantage of the moment and didn't spare anyone from his comedic wrath. Donald Trump joked about Mike Pence and Jared Kushner at the Gridiron Dinner, and the president did not pull any punches.
If you're unfamiliar with the Gridiron Club Dinner, it can be likened to that of the more well-known White House Correspondents' Dinner where journalists and other attendees (sometimes) laugh at the jokes told at the expense of themselves and prominent political figures, according to CNN. President Trump opted out of both events last year, but he switched it up and made an appearance at the Gridiron Club Dinner on Saturday, March 3, 2018. From reports of the president's jokes, President Trump did not shy away from any of the current news stories surrounding his administration.
Trump started by acknowledging the recent downgrade in his son-in-law's security clearance level. Trump seemingly leaned on the classic "funny because it's true" premise when he joked about is son-in-law aide when said, "You know, we were late tonight because Jared could not get through security."
Kushner's previously high level of security clearance had long been controversial as he had failed to answer significant questions in his initial application for security clearance.
Trump continued jabbing at the personnel of his administration as he kiddingly told the audience about why Attorney General Jeff Sessions didn't carpool with Trump to the dinner. Trump joked, "You know, it's weird, I offered him a ride over — and he recused himself!"
Sessions recused himself in March 2017 from the investigation into Russian meddling in 2016 U.S. presidential election after he had been caught misspeaking about his contact with Russian during his time as a Trump campaign surrogate in 2016, according to TIME.
You could tell after these jokes that President Trump was seemingly intent on not leaving any Trump White House headline out of his "comedy set." While the punchlines did induce some laughs, it was (and is) a little unnerving to hear the president joke about these allegedly nefarious happenings.
As President Trump continued, he (without naming it outright) broached the subject of Special Counsel Robert Mueller's investigation into Russian meddling in the 2016 presidential election and the possibility of collusion between the Trump campaign and the Russians during that time. Trump jokingly approached the matter through the lens of Vice President Mike Pence. Trump said Pence had been "showing a particularly keen interest in the news these days. He starts out each morning asking everyone, 'Has he been impeached yet?'"
To make sure everyone in attendance understood that Trump is certain he won't be impeached, the president added, "Mike, you can't be impeached when there's no crime, please remember that."
Sticking to current events for his inspiration, Trump then commented on the high turnover rate of the personnel of the his administration. Most recently, President Trump's former communication director, Hope Hicks, resigned on Feb. 28. Trump explained, "So many people have been leaving the White House. It's actually been really exciting and invigorating 'cause you want new thought. So, I like turnover. I like chaos. It really is good."
In the vein of "good" chaos, Trump quipped, "Now the question everyone keeps asking is, 'Who is going to be the next to leave? Steve Miller or Melania?'" NPR reported that this particular joke did not go over so well. As the joke was greeted by audible gasps, neither the audience nor the punchline herself, Melania Trump, seemed to enjoy it.
Somewhat acknowledging that this joke missed the mark, President Trump told Melania, "That is terrible, honey — but you love me, right?" Some people reported that Melania told Trump to "behave," but her response was inaudible as she mouthed it away from the microphone.
Before the end of the night, Trump also managed some disparaging jokes in the direction of the people like former Vice President Joe Biden and Oprah Winfrey. Trump claimed of "Sleepy Joe," that Trump could "kick his ass." Referring to Winfrey, Trump referred to himself as "the Almighty" as he said, "All right Oprah, go ahead and run."
There was seemingly no end to the jokes Trump had lined up for the evening, but the president did take some time to address real issues. Per NPR, Trump said that he is open to direct talks with North Korea's Kim Jon-un saying the he's not concerned about "dealing with a madman."
Dealing with issues closer to home, Trump also mentioned the Deferred Action for Childhood Arrivals (DACA) program.
Trump said, "I love the Dreamers .. we're going to help the Dreamers." The current deadline to reapply for protection under the Development, Relief, and Education for Alien Minors (DREAM) Act is March 5, 2018. President Trump didn't say much about it beyond "we're all working together."
With a disjointed connection between the jokes and the real issues of the evening, it is difficult to know what to make of President Trump's performance. I guess you'll just have to keep up with the Trump White House to know which subjects remain a punchline and which ones wind up in the headlines.