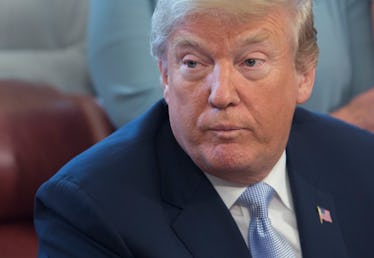 Donald Trump Joked About Being President For 16 Years & Just, No
Pool/Getty Images News/Getty Images
You know how America has some strict rules about how long presidents can serve for? A refresher: it's capped at two terms. That's eight years, and then you're out. Well, President Donald Trump might have other plans. On April 12, Donald Trump joked about being president for 16 years, and this is where we are now.
Trump gave a speech on the White House lawn Thursday, April 12, to praise his own administration for their recently passed tax cuts. Then he segued into talking about how effective his administration is at cutting regulations. Somehow amidst his digression, he managed to slip in a "joke" about serving 16 years, according to Newsweek. He said,
We've cut more regulations in a year and a quarter than any administration, whether it's four years, eight years or, in one case, 16 years. Should we go back to 16 years? Congressman, can we have that extended? The last time I jokingly said that, the papers started saying 'he's got despotic tendencies!' No, I'm not looking to do it, unless you want to do it.
So, uh, that's something.
Trump got into his little 16-year bit by first insinuating that in the history of the United States there has been a president who served for 16 years. Except that never happened. Franklin D. Roosevelt was the only president to serve more than two terms and he died after 12 years in office (after winning a fourth term, so I guess there's that). So... what?
But that slip-up aside, jokes about overstaying his welcome in the Oval Office are nothing new to Trump.
During a private fundraising lunch in March 2018, Trump reportedly applauded China's President Xi Jinping of China's ruling Communist Party for removing China's two-term limit for presidents, according to CNN. Trump reportedly told those in attendance that it's great that President Xi is now the president for life.
"He's now president for life. President for life. No, he's great. And look, he was able to do that. I think it's great," Trump reportedly said.
Trump continued his speech by reportedly saying that maybe America will have to give abolishing the term limit a try too. He said, "Maybe we'll have to give that a shot some day." The White House did not respond to Elite Daily's request for comment at the time.
It's not unheard of for Trump to praise authoritarian despots (something he joked about being called in his Thursday speech on the White House lawn). It's a bit of a habit for him, actually.
In 2017 he praised Philippine President Rodrigo Duterte, who has openly admitted to participating in extrajudicial killings and likened himself to Hitler in 2016; Turkish president Recep Tayyip Erdogan, who imprisoned opposition leaders, judges, and journalists; and most infamously, Russian President Vladimir Putin, who is infamous for being an authoritative and undemocratic figure. On March 20 leaked material revealed that Trump congratulated Putin on his recent election victory, despite advisers warning him not to.
It's kind of alarming that Trump would praise dictators like that, but it's also alarming that he "jokes" about doing away with a law that is ingrained in our constitution.
President Barack Obama said while he was still in office in 2015 that term limits are essential for democracy. At the time he was speaking to African Leaders at the African Union headquarters in Addis Ababa, where he said, "democratic progress is also at risk when leaders refuse to step aside when their terms end." So Obama, at least, obviously felt that limitless presidential terms are detrimental to democracy.
Sure, Trump might have been just joking. But joking about adopting policies of authoritarian leaders is pretty unsettling nonetheless. There's a reason that America has a two-term limit cap, and it's because we are a democracy.