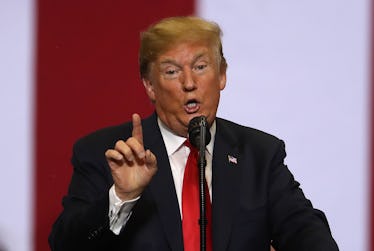 Donald Trump Won't Stop Crashing Weddings & It's Just So Awkward
Justin Sullivan/Getty Images News/Getty Images
Wedding Crashers 2 never got made, but I think President Donald Trump has been not-so-secretly auditioning. Last year Trump crashed a handful (that's a handful too many) of weddings being held at his various holdings, and this year he managed to sneak his way into the festivities again. Donald Trump crashed another wedding and it's just as awkward as you'd expect — so hey, Trump, maybe don't next time. What do you think about that?
According to TMZ, Trump surprised Gerald Papa and Jenna Buchholtz during their nuptials at the Trump National Golf Course in Bedminster Township, New Jersey, on Friday, June 29. They reported that eyes on the ground saw Trump fly in on Marine One and crash the wedding to dole out some handshakes and pose for pictures. TMZ also obtained some footage where you can see Trump telling onlookers to take care of the couple. Then he shakes the brides hand and pulls her in by the waist for a kiss on the cheek. Judging by the video, it seems like everyone at the wedding was a big fan because they all cheered for that smooch. Then they applauded as he and Melania Trump (yes she was there) ascended the stairs up to wherever it is the first couple goes on golf courses they own.
It's hardly the first time he's done this. Last year the president crashed at least three other weddings being held on his New Jersey golf course, and always manages to sneak in a kiss with the bride. Luckily he's amongst fans (after all, they are celebrating their happiest day on a Trump property), because I think he lives for the applause. Just check out this video of the president gladhandling another bride, back in June of 2017.
How long will this reign of Trump the Wedding Crasher go on for?
Last February, Trump also crashed a wedding at his Mar-a-Lago hotel in Palm Beach, Florida. At that one he did more than shake hands and pose for pictures, he actually grabbed the mic and gave a toast. Yes, you read that correctly. The 45th president of the United States of America dropped in to a wedding, uninvited, and proceeded to give a speech. Did I mention he just finished meeting with Japanese Prime Minister Shinzo Abe to talk over news that North Korea has launched an intermediate-range missile, according to CNN? Trump told the room that he recognized the couple earlier, as they'd been long-time members of the club, and told the prime minister they should go and say hello. Trump told the crowd,
I saw them out on the lawn today. I said to the Prime Minister of Japan, I said, 'C'mon Shinzo, let's go over and say hello.' They've been members of this club for a long time. They've paid me a fortune.
BTW, the fee to join the Mar-a-Lago is up to $200,000.
Maybe I'm wrong, but bragging about how much money someone has paid you while talking over a potential nuclear crisis to a foreign leader seems, I don't know, unprofessional?
In case you thought that crashing weddings was only something Trump does for members of his various clubs, you're wrong. According to a 2016 report from The Cut, Trump actually tried to crash Chelsea Clinton's wedding in 2010. Political journalist and commentator Joe Conason wrote in his 2016 book, Man of the World: The Further Endeavors of Bill Clinton, that Trump thought his invite to Clinton's wedding just got lost in the mail or something. He reportedly tried to get directions from Doug Band, an aide at the Clinton Foundation at the time, in order to show up. Conason wrote,
'I'm supposed to be at the wedding, Doug,' said Trump briskly, 'but I didn't receive the invitation, and I need to know where to go.' Band knew Trump wasn't on the list, of course, and politely urged him to get in touch with Chelsea for directions. At that point, the would-be wedding crasher apparently gave up.
Although I would've loved to see some video of Trump crashing a Clinton wedding during the 2016 campaign, I'm glad he decided not to show up after all. We have enough embarrassing footage of the current president caught on tape.