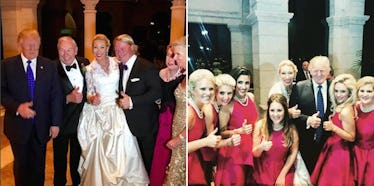 Trump Crashed A Wedding While On Vacation And Gave Most Trump Speech Ever
Instagram
President Donald Trump had a busy weekend down in Palm Beach at his resort, Mar-a-Lago.
And no, I'm not just talking about golfing with the prime minister of Japan or publicly handling a North Korea missile situation, causing worries about the Trump administration's security.
I'm talking about his wedding crashing.
After working out the missile situation (in worrying conditions) on Saturday night, Trump crashed a wedding.
Because of course Trump did.
Instagram posts by a Kerry Whitaker Townsend reveal the president showed up at a wedding at Mar-a-Lago, where he was all thumbs-up.
Trump posed with the bride and groom, Vanessa Jane Falk, 36, and Carl Henry Lindner IV, 33, and with the bridesmaids.
While crashing the Mar-a-Lago wedding, Trump gave a toast.
Again, because of course he did.
Part of it was captured on video and posted to Instagram.
In the video, Trump wishes the bride and groom love and success.
He says into a microphone he saw them out on the lawn while golfing with Prime Minister Shinzo Abe and wanted to go say hello.
Trump says they took some photos together, and he was happy to be at the wedding.
President Trump also apparently talked about money in his wedding-crashing toast at Mar-a-Lago.
According to CNN, he also said,
They've been members of this club for a long time. They've paid me a fortune.
It's likely the newlyweds are now paying the president even more of a fortune.
Membership costs at Mar-a-Lago doubled in price last month after Trump became president. The initiation fee doubled to $200,000, which definitely does not sound like the president personally profiting from serving the public in this leadership position, so shut up about it already!
The person who posted the toast video to Instagram claimed Trump was "so gracious and kind to pay his respects to this lovely couple" -- who paid him a fortune, apparently.
Citations: The newlyweds in the middle of a US-Japan summit (CNN), Mar-A-Lago Membership Fee Doubles (CNBC)