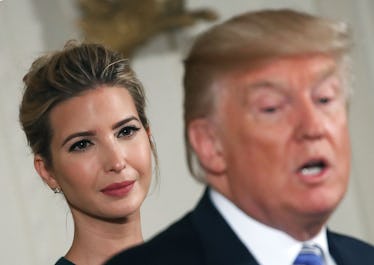 Donald & Ivanka Trump's Tweets Totally Ignored The National Student Walkouts
Mark Wilson/Getty Images News/Getty Images
In light of the school walkouts that swept across the nation on March 14, big-name celebrities, including Zendaya, Kerry Washington and Miley Cyrus, shared warm words of encouragement to the students who were participating via Twitter. So of course I expected President Donald Trump, who is known for having Twitter fingers, to at least say something. But he didn't say one word about the protests — not even a simple "be safe." And neither did his sidekick/trusted advisor Ivanka Trump. Instead, Donald and Ivanka's Trump's tweets during the student walkout were super irrelevant and kind of... stale, given the circumstances.
While thousands of kids were preparing to protest gun violence and pay their respects to the 17 people who were killed in the Parkland school shooting on Feb. 14, Trump and Ivanka were busy tweeting about infrastructure. About three hours before the walkouts were scheduled to take place, the Trumps both posted messages to their Twitter pages, praising the Senate Commerce, Science, and Transportation Committee for hosting a hearing about rebuilding America's infrastructure.
But the Trumps' tweets didn't mention the massive student protests sweeping the country. Which, considering the fact that the walkout has been all over the news, kind of seems like they're intentionally avoiding addressing it.
It's maybe not surprising that the Trumps didn't want to call attention to protests demanding gun control.
After all, gun control has been a fraught subject for the president. After the Parkland shooting rekindled calls for stricter gun laws, Trump maintained that he would support stricter gun control measures, including expanded background checks and possibly raising the age limit to purchase assault weapons from 18 to 21. But Trump later rolled back on some of his comments. Instead, according to Reuters, he claimed there wasn't enough political support behind raising the age limit, backed a proposal to arm teachers and is pushing for states to pass "risk protection orders," which would allow law enforcement officials to take weapons away from individuals they feel are dangerous. In a message posted to his Twitter on March 12, Trump defended his new approach, writing:
Very strong improvement and strengthening of background checks will be fully backed by White House. Legislation moving forward. Bump Stocks will soon be out. Highly trained expert teachers will be allowed to conceal carry, subject to State Law. Armed guards OK, deterrent!.......
....On 18 to 21 Age Limits, watching court cases and rulings before acting. States are making this decision. Things are moving rapidly on this, but not much political support (to put it mildly).
Later in the day on March 14, Trump again tweeted out about his not-gun-control plans to stop violence in schools, praising the House of Representatives for passing the STOP School Violence Act. The bill authorizes funding for training and school safety initiatives, as well as funding for metal detectors, stronger locks, and notification technologies to alert law enforcement of emergencies, per ABC News. While the tweet referred to the shooting in Parkland, it made no mention of the protests that had happened that day.
With all his wishy-washy-ness, I guess I can't be too shocked that he hasn't spoken out on the protests.
The National School Walkout had a major turnout.
Though it might've been nice to have some support from the leader of our country, the walkout, dubbed as the National Student Walkout On Gun Violence, was still successful, springing people from all over the world into action. For 17 minutes at 10 a.m. on March 14, thousands of students, parents and faculty members banded together to "demand Congress pass legislation to keep us safe from gun violence at our schools, on our streets and in our homes and places of worship," according to the protest's event page. According to Fox News, more than 185,000 people were expected to participate in the protest, including individuals from over 2,000 different schools.
One of the most moving things about the protests, though (IMO), is that students from other communities that have been affected by mass shootings also came together in support of the Parkland students. Abigail Orton, a current junior at Columbine High School in Colorado, told CNN that her community has yet to recover from the 1999 Columbine massacre, which left more than a dozen people dead. She said,
19 years after the tragedy that has personally affected my entire community, we still have not seen enough change. And within the last three years, we've had more school shootings than in the last decade combined. ... So I'm here to hopefully bring about that change and to maybe use my voice and my standing as a student, and specifically a student of this community, to bring about that change.
Though Trump and his daughter, Ivanka, remain mute on the protests, at least there are thousands of students who have each other's backs in such a tragic time.