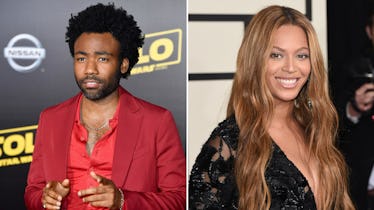 Donald Glover & Beyoncé Are Already Recording 'Lion King' Songs & I'm Shaking
Frazer Harrison/Jason Merritt/Getty Images Entertainment/Getty Images
OK, Disney fans, our moment is finally here. When I heard that Disney's live-action remake of The Lion King was going to be a thing, I felt like I was about to lose my cool. When I heard that Donald Glover would be voicing Simba and Beyoncé would play Nala, I did lose my cool. This is something that I have no shame in saying that I literally DREAM about, so if you're not on board with this cast, please see yourself out. And fam, things are about to get even better, because apparently Donald Glover and Beyoncé started recording Lion King songs. So yep, it seems like a really great time to collectively lose our sh*t.
Lion King role aside, Donald Glover is crushing the game right now with his television drama, Atlanta, and will be playing the role of Lando Calrissian in the upcoming Solo: A Star Wars Movie. So yeah, you can say that Childish Gambino is having a bit of a moment, and it's totally well-deserved. At a press junket for his upcoming Star Wars movie, Glover spoke to Entertainment Tonight's Cameron Mathison about voicing the role of Simba, and how it can be "intimidating" working alongside Beyoncé, because, you know — Beyoncé!
He told Mathison, "We started recording some stuff and it's, you know, it's a little intimidating ... [At least] from my point of view."
Um, yah. I'd say that being a recording studio with the actual queen of music herself is just a tad frightening. There are at least two million scenarios where Beyoncé nails everything perfectly and you screw everything up, so no real pressure there.
But, despite the intimidating role Glover gets to play, he said that being a part of The Lion King is "probably the safest thing, just because everybody who's involved is a fan, and everybody who is involved knows it really well."
Right again, Mr. Glover!
If you didn't watch that movie on the regular during your childhood, I want nothing to do with you, and I don't care if that sounds harsh.
He then talked about how he received the lyrics to the songs, but, like the badass '90s kid he is, was like LOL, I know those already. He said,
They're like, 'So here are the lyrics,' and I'm like, 'I know the lyrics! Don't worry, I was in fourth grade when this came out.'
Fourth grade was a prime time part of your childhood to have this movie air. I was a *few* years younger, but fret not, I still reaped the benefits of having an older sister who got this bad boy on VHS.
A highlight for Glover, though, has been watching Beyoncé slay and work her vocal chords for the role of Nala. He said that seeing her perform has been amazing, saying, "Just hearing her do it, it's been like, 'Man, this is a really special thing.'" I would legitimately give my left arm to be in the recording studio with Beyoncé as she's singing tracks straight from The Lion King.
And if you want me to really make your day, here's some glorious info about Beyoncé's role: She will be collaborating with Elton John to create an original song for The Lion King, with a source telling The Sun that Elton John "is a big fan of hers and shares her vision of what they could do together."
The source told the publication that Beyoncé was invested in making the music her own, saying,
It was really important to Beyoncé that she was heavily involved in creating the soundtrack. She is putting a lot of time and effort into the film and she is confident it will be huge.
You didn't need Beyoncé to tell me that this remake is going to be huge. I am beyond pumped to hear what she and Donald Glover will be bringing to the table, and I'm *pretty* sure you're just as excited.
Until the music drops, though, I'll just be making like Timon and Pumbaa and Hakuna Matata-ing my way through the days.