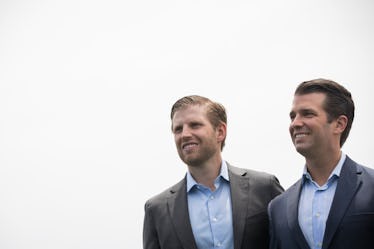 Don Jr. & Eric Trump Are Reportedly Blowing Through Secret Service Money
Drew Angerer/Getty Images News/Getty Images
Safety should always be a priority, but this presidential family might be taking it to the extreme. The Trumps aren't strangers to long distance traveling, and apparently they're bringing along a few security measures with them. According to Politico, Don. Jr and Eric Trump's Secret Service costs hit almost $250,000 while traveling overseas for business trips in 2017, and it's all on the taxpayers' dime.
On July 18, Politico reported that watchdog nonprofit group, Citizens for Responsibility and Ethics in Washington (CREW), obtained documents that revealed the two Trump heirs allegedly spent nearly a quarter of a million dollars in one month only on Secret Service costs. In February 2017, Don Jr. and Eric Trump traveled overseas to Dubai for a two-day business trip for the Trump Foundation, and reportedly spent hundreds of thousands of dollars on expenses including the hotels, airfare and other costs for Secret Service protection. Another trip to the Dominican Republic for the possible relaunch of a Trump resort that same month reportedly cost around $30,000.
A statement from CREW about the spending read,
The Secret Service documents, received through Freedom of Information Act (FOIA) requests, shed light on how much taxpayers are paying for trips taken by the heads of the president's private business empire.
The CREW release further said that the 2017 trips were more costly than a trip the two took this year:
The business trip cost taxpayers significantly more than the $73,000 in Secret Service cost for a 2018 trip to Dubai for the Trump sons to attend the wedding of the daughter of a business partner.
Elite Daily reached out to the Trump Organization and the White House for comment about the reported Secret Service costs, but didn't hear back by the time of publication.
Since U.S. leader Donald Trump took office, his two oldest sons have taken over running their father's namesake foundation. So, it's not that surprising that the two men have to jet out of the country from time and time again. However, it looks like these reoccurring trips are seriously breaking the bank when it comes to security costs. I don't blame the Trumps for making sure they're safe during their travels, but clearly they're blowing through the budget at record speed.
There's no denying that $250,000 is a jaw-dropping amount of money, but Donald Trump Jr. might have a good reason for the splurging. In February, Don Jr.'s soon to be ex-wife, Vanessa Trump, was rushed to the hospital after she received a threatening letter with an unidentified white powder on it. Then, on March 1, Vanessa Trump took to Twitter to share with her followers that she was OK, and thanked everyone, including the Secret Service, for their support.
She wrote,
Thank you so much to everyone that helped catch the person who sent the horrifying envelope that I opened up two weeks ago! A special thanks to @SecretService and all the dedicated state & federal agencies in Boston, NYC & around the US!
Vanessa Trump isn't the only one who's had a brush with danger over the years. In March 2016, Eric Trump's wife, Lara Trump, opened a package that was addressed to her husband, and it contained a mysterious white powder. Along with the package, there was a letter that told the Trump family that they would be hurt if Donald Trump didn't quit his presidential campaign.
The Trump family has certainly had a few encounters with scary situations, and it's truly unimaginable. Even though $250,000 is a little steep for a few overnight business trips, it's difficult to put a price tag on personal safety.
In the future, let's hope we'll see more money spent on America's safety, though, and not a wealthy family's overseas business excursions.