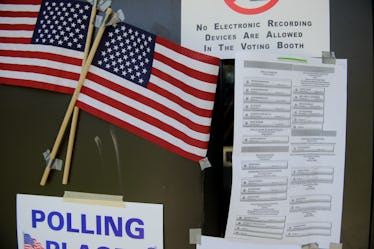 These 4 Millennials Who Changed Their Political Party Explain Why It Matters To Them
Jeff Swensen/Getty Images News/Getty Images
With the November midterm elections quickly coming to their finale, people all over the nation are speaking out about how much impact this election cycle could have on the country. Although political party affiliation may not impact the voting process in this month's general election, it still carries some major weight — both politically and emotionally. These millennials who changed their political party told Elite Daily why they cared and why it was so important to them to have their name registered with one party or another. Whether you identify with the Republican, Democrat, Independent, or another political party, your vote matters.
Heat between Democrats and Republican may have begun as a type of sibling rivalry, but in recent years tensions have been building. Currently, the Republican Party holds the majority in both chambers of Congress, but that hasn't stopped Democrats from standing up to try and convince voters that change needs to take place. In 2018 which party you're registered with can feel like a dramatic commitment, even though it doesn't affect who you can vote for in a general election.
Like anything, political ideals, opinions, and circumstances can change a lot over time. From the 2016 presidential election to the November midterms, these four millennials told Elite Daily about changing their registered political party and why they did it.
Submissions have been lightly edited for length and clarity.