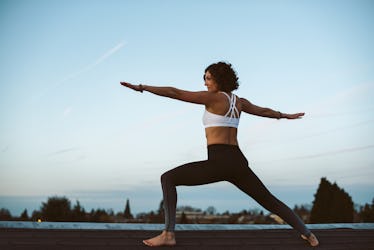 5 Workouts To Do Before Bed That Won't Leave You Tossing & Turning All Night
I literally always hit up the gym late at night. I love how empty it is, I hate waking up early to sweat it out, and for real, it just works out perfectly with my busy schedule. On nights when I can't seem to fall asleep, though, I've always low-key wondered whether working out makes it harder to sleep — not that I'm going to change my evening exercise routine either way, but a girl's got to know, you know?
TBH though, people who tell me I shouldn't be working out before bed remind me of those people who tell me I'm putting too much parmesan cheese on my pasta. Literally nobody needs that kind of negativity in their life — nobody.
Plus, there's plenty of research out there to back you up on your late-night exercise routine, so seriously, go forth and make those evening #gains.
But to make sure you're not screwing yourself over, there are definitely a few precautions you should take to avoid tossing and turning all throughout the night. For instance, going way too hard during your workout and not being able to wind down might inadvertently raise your body temperature too much, when it's actually supposed to be on the cooler side for an ideally restful sleep.
Overall, as long as you make sure not to overdo the intensity of your sweat sesh, you should be in the clear. Here are five evening workouts that won't leave you feeling restless when it comes to go to sleep.