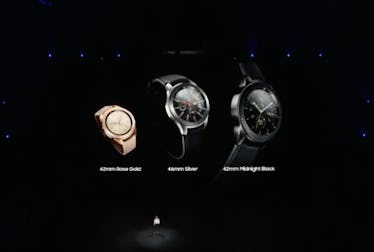 The Samsung Galaxy Watch Will Come In This Trendy Color That You Know & Love
I'm a rose gold enthusiast, and I don't care who knows it. I'm completely drawn to the pinkish hue, and most of the technology I own is covered in it. For instance, both my laptop case and my keyboard protecter are rose gold in color. My cell phone was protected by a light pink case for years, and I would purchase a rose-colored charger if I could. What I'm trying to say is that technology looks better when it's pink. That's why I've been wondering if the Samsung Galaxy Watch will come in rose gold. After watching Samsung's Galaxy Unpacked event, I'm happy to say that the company's new smart watch will in fact come in rose gold.
The company announced the colors of the new Galaxy Watch during its Unpacked event on Thursday, Aug. 9. Instead of sticking to dull colors, the company decided to add rose gold to the list. I don't know about you, but I am ready to run to the nearest Samsung establishment to purchase a shiny new rose gold Galaxy Watch. My wardrobe is very ready for the pink accessory, and I can't wait to show it off.
Before Samsung's Unpacked event even took place, there was speculation that a rose gold Galaxy Watch was on its way. Apparently, Samsung may have accidentally leaked a product picture of the pink smart watch on its website on Monday, July 23, per CNET. In fact, a screenshot was taken of the presumably "accidental" posting, which displayed a 42-millimeter rose gold Galaxy Watch. Oops?
Of course, the listing was eventually taken down. At the time, there was no confirmation that the listing was for the new Galaxy Watch, and there was no price tag or further information below the product picture. The only thing that was present during the apparent leak was the watch's model number, size, color, and bluetooth capability.
If rose gold isn't your thing, maybe the other colors that the Galaxy Watch comes in will suit your style. The watch will also come in black and silver, in case you're into a more neutral look.
After exploring the colors of the Galaxy Watch, you might be having a hard time deciding whether or not you want to purchase it. This might be especially hard if you have an Apple Watch, or if you're hoping to purchase one or the other. Thankfully, there are major differences between the two when it comes to design.
For one, Apple Watches have stuck to a rectangular shape, while Galaxy Watches are circular. If you're into the classic, circular wristwatch, Samsung's choice might be for you. The sizes are also different between each watch choice. For instance, Apple Watches come with either a 38-millimeter band or a 42-millimeter band. The Galaxy Watch, on the other hand, comes with a 42-millimeter band or a 46-millimeter band. So, if size is more important to you than color, you should choose which one fits best.
Still, any device that's rose gold is perfect in my book. I'm on a mission to make every piece of technology that I own pink in color. Thankfully, Samsung's latest timepiece can help me out with that.