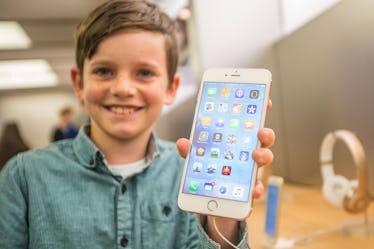 This One Popular Color Is Missing From The New iPhone Lineup
Cole Bennetts/Getty Images News/Getty Images
All I need in this life of sin is me and my rose gold iPhone. In addition to all the delightful features that come with iPhones — from FaceTime to Do Not Disturb to Apple Music to Siri — the rose gold design is absolutely flawless. It's not as gaudy as gold, or as plain as black or silver — it just has great appeal and gives off luxury and sleek vibes that I honestly live for. Now that the newest bunch of iPhones has been announced, you might be wondering if the iPhone XS comes in rose gold. If so, I've got you covered. Here's what you need to know.
On Wednesday, Sept. 12, Apple rolled out three colors for the iPhone XS and iPhone XS Max. The two phones come in silver, space gray, and gold. The colors are pretty standard based on what we've seen of the iPhones in years past. But things get pretty colorful with the 6.1-inch phone, the iPhone XR. That one is offered in black, white, red, yellow, coral, and blue. I wish I could tell you guys I was saving the best for last, but unfortunately, I'm not. It looks like Apple decided to skip over the rose gold design this year. But hey, this blue one might be cute enough to win me over. Who's with me?
As for the other logistics for the iPhone XS that you're probably dying to know, it's reportedly pretty similar to the iPhone X. For starters, the XS reportedly costs $999 — the same price the X was released at in 2017. So some good news is that you won't have to break the bank any further than you had to last year to get all the great new updates.
The XS also resembles the X. It still has the glass front and back feature, along with the new smooth, trendy gold finish. Plus, the XS maintains a 5.8-inch display with the same resolution as the X. With the similarities being this neck-and-neck, it's refreshing to know that it won't be such a hassle to figure out how to work the new gadget.
But if you're straddling the fence on the decision to get the phone because there are so many similarities, you'll be pleased to know that there are some stunning differences, too. The iPhone XS and XS Max will reportedly come equipped with a chip that allows them to run faster while consuming less energy, which'll really come in handy for anyone who stays on the go or is constantly on their phone. Oh, and did I mention that they reportedly come with they come with faster chargers? Yeahhh, someone point me to the pre-order screen ASAP. Please and thanks.
If you're anything like me and are more than excited to get your hands on the new gadget, the iPhone XS will be available for pre-order on Sept. 14 on Apple's website. Might as well:
Happy shopping! And good luck picking out your brand new color!