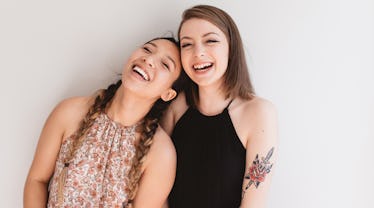 5 Small Acts Of Kindness In A Relationship That Are Actually Code For "I Love You"
After the initial fanfare of falling in love has started to simmer down, it's not uncommon to be left wondering how your SO really feels about you. When you first got together, both of you were probably putting in work to prove to each other that being together was a priority. Those big romantic gestures like exchanging I love you's or going on your first vacation together all added to the experience of making you feel loved and valued. But as time goes on, it's normal to wonder if your partner really loves you as much as they say that they do.
Despite all of the big ways someone might show their love on Valentine's Day or your birthday, being able to make each other feel loved on a daily basis is just as important. Because at the end of the day, life is made up of much more than special occasions — it's made up of sad days, stressful days, sick days, and more. Being with someone who is able to show you they love you through the smallest actions, really, is what happily-ever-afters are made of. If your partner does these five things for you, then you've definitely got a bae who's showing you the love.