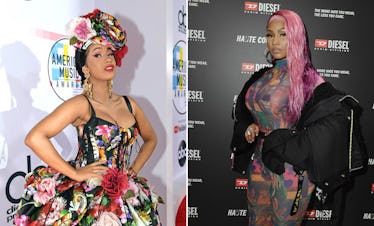 Everyone Wants To Know If Cardi B Disses Nicki Minaj In Her New Song "Money"
Emma McIntyre/Jacopo Raule/Getty Images Entertainment/Getty Images
Round and round and round we go when it comes to the feud between Cardi B and Nicki Minaj, huh? If you think that the beef between the two rappers seems never-ending, that's because it is, fam. We all know by now that both Cardi B and Nicki Minaj have fired shots at each other, both in person and online, on top of dissing each other in their work. And could Cardi B's new song be adding to that list of shade? So, does Cardi B diss Nicki Minaj in "Money"? If you ask me, it's a tossup.
On Tuesday, Oct. 23, the 26-year-old dropped her newest song — the first solo release since her debut album, Invasion of Privacy. The song is about — you guessed it — gettin' cash money, but there are a few questionable lines that are making fans think that Cardi could be taking shots at Nicki with "Money."
While there's no diss fired directly at Minaj, she mentions a few things that might have some correlation. Let's take a look at the lyrics, shall we?
Some of the lyrics from "Money" go:
All y'all b*tches in trouble, Bring brass knuckles to the scuffle, I heard that Cardi went pop, Yeah, I did go pop (Pop), That's me bustin' they bubble
While this just sounds like a catchy lyric, it could be a reference to the altercation the two rappers at the Harper's Bazaar Icon party at The Plaza Hotel on Sept. 8, which ended with Cardi reportedly taking off her shoe and throwing it at Minaj. Eesh.
But wait, there's more!
Further into the song, the lyrics go:
Shake that little *ss (Money), Get a little bag and take it to the store (Store, money), Get a little cash (Money), Shake it real fast and get a little more (Money)
So you might remember that, after the altercation at the Harper's Bazaar Icon party, Cardi B took to Instagram to address her beef with Minaj head-on, writing in part,
I've let a lot of sh*t slide! I let you sneak diss me, I let you lie on me, I let you attempt to stop my bags, f*ck up the way I eat! You've threatened other artists in the industry, told them if they work with me you'll stop f*ckin with them!! I let you talk big sh*t about me!! I addressed you once in person, I addressed you a second time in person, and every time you copped the plea!! ... I've worked to hard and come too far to let anybody f*ck with my success!!!!
Of course, the idea of Minaj "stopping Cardi's bags" (a phrase used to call out someone or something that's trying to prevent your success) ultimately ended up in Nicki Minaj's "Transformer" lyrics, as well as Minaj's new line of merchandise, with products that say, "Nicki stopped my bag":
So, if Cardi B isn't taking a subtle dig and Nicki Minaj on her newest song, she definitely has me fooled. Personally, I think this is yet another situation that will just add to the ~drama~ of their rocky relationship.