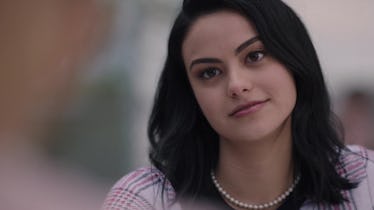 Camila Mendes Low-Key Has An Incredible Voice & 'Riverdale' Fans Need To See This Video
The CW
Riverdale is asking its cast to use its singing chops in April 18's musical episode, "A Night to Remember," which follows the gang's involvement in the high school production of Carrie: The Musical. With Cheryl Blossom playing the title role in the cult classic, Camila Mendes' Veronica Lodge stars in the school musical as mean girl Chris Hargensen and Riverdale fans are dying to know: Does Camila Mendes really sing? Like many of her co-stars, Mendes is also a talented singer.
In November 2017, Mendes proved her multifaceted talents when she and fellow actress Rachel Lynn Matthews performed a cover of the Bee Gees' "How Deep is Your Love" in an Instagram video. If you're still not over KJ Apa's guitar-playing skills, prepare to be amazed all over again, because Mendes also has an incredible voice. Yep, some people have all the luck.
According to Entertainment Weekly, "A Night to Remember" will include Betty as Sue Snell performing the song "You Shine" as an apology to Veronica. Although Mendes' voice has been heard before in previous Riverdale musical performances, Betty singing to Veronica seems like further confirmation that Mendes may not have her own solo moment in the spotlight during the episode. However, she is still known to burst into song beyond this Instagram moment.
On social media, Mendes and co-star Lili Reinhart have also shared their own behind-the-scenes singing before. While these videos aren't as polished as Mendes' duo with Matthews, they're relatable AF — who hasn't had their own Hilary Duff singalong at some point? It honestly doesn't get any cuter than this. Bonus points for including some cute choreography to "What Dreams Are Made Of."
The two have even poked fun at castmate Cole Sprouse through singing, posting a brief video online of them performing an excerpt of the theme song to his show The Suite Life of Zack and Cody. Although I had my fingers crossed for Sprouse to channel Cody's solo from the "Lip Synchin' in the Rain" episode for Carrie, his Jughead won't sing in "A Night to Remember."
In other out-of-character musical moments, Mendes has also performed a cover of SZA's "The Weekend" alongside Riverdale co-star and fellow Pussycat member Asha Bromfield. Well, Mendes obviously plays the leader of Veronica and the Pussycats for a reason, right?
Despite Veronica seemingly playing a minor part in the school musical, Mendes confirmed to Extra that she does sing in the surprisingly intense episode, saying:
I sing in it and it's so fun, and it ends in a really dark way.
Depending on how the upcoming episode is received, Mendes may have a future opportunity to shine in a future Riverdale musical. Creator and showrunner Roberto Aguirre-Sacasa told Variety that he's up for the gang working on another school musical someday:
We would absolutely do a musical again. Every high school does a musical every year. So I think it would be finding the right [one]. We got really lucky — Carrie felt like it slotted in perfectly and these stories felt like they docked perfectly. The bar is really high but 100% we would do it again. I think everybody had a blast doing it.
Until then, we have the show's original attempts at performing an unorthodox high school musical to look forward to. It's safe to say that this episode probably won't inspire your alma mater to perform their own production of Carrie, but anything goes at Riverdale High School.
The musical Riverdale episode "Chapter Thirty-one: A Night to Remember" premieres on Wednesday, April 18, at 8 p.m. ET on The CW.